Aicia Keys Does "The Tyra Show"
​
Dec 04 | by Natasha
​ ​ ​ ​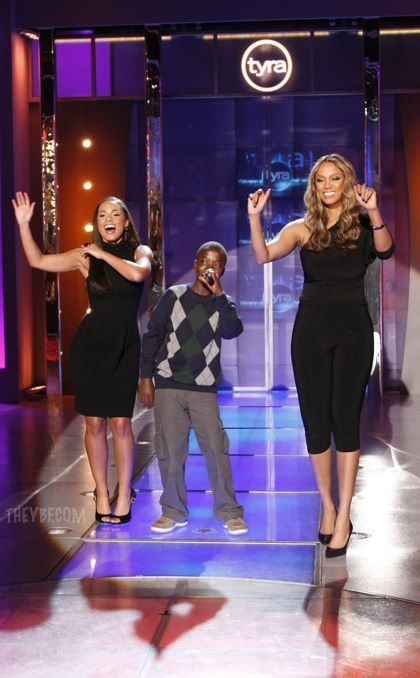 On a show airing Friday, December 5th, Alicia Keys stops by "The

Tyra

Banks Show" to discuss everything from rumors of her performing at the Inaugural Ball to the fundraiser event she recently hosted for the charity she co-founded "Keep A Child Alive."
"The

Tyra

Banks Show" also surprises one of the HIV-positive children whose life has been saved by Alicia's charity. Noah, a 15-year-old aspiring musician from Rwanda, performs on the show his original song co-written by producer Swiss Beats with

Tyra

and Alicia serving as his backup dancers.

Tyra

also surprises Noah with clothing, an ipod, a digital music recorder to record his music with and a $5,000 donation to his family.
Cute.
Here's what AK said about rumors circulating that she will be performing at President-elect Barack Obama's Inaugural Ball:
"I'm very excited about that. That's very very exciting. It's such a historic moment. I'm very excited. Nothing is confirmed yet though.  I can't confirm that…If it were to happen…I would have to put together something special."
And she
almost
had an alter ego stage name :
"Wild…Alicia Wild. Its fierce, its rebellious, its tough…I was like, 'Ma, What do you think?' and she's like, 'It sounds like a stripper.'"
Glad that didn't happen.  We have enough multiple personalities running around these parts. More about AK on Tyra when you read the rest...
AK also admits that she sometimes forgets her song lyrics.
"Rarely, but there are times that I do.  The trick is just say the same verse again. No one knows."
Keys explains to "The

Tyra

Banks Show" why she co-founded the charity "Keep A Child Alive."
Keys: "We provide anti-retroviral medicine for children and families who have AIDS and wouldn't be able to afford it especially in places like Africa and now were going to move into India." Keys: "It's very simple and it's something that takes a very big issue and allows people like you and I to really understand it. By giving $1 a day you're able to help provide this medicine as well as the surrounding care."
​ ​
​ ​ ​