Event Fab+TV Fab
​
Sep 19 | by Natasha
​ ​ ​ ​
Mrs. Pinkett Smith
is readying for tv stardom again.  She's set to executive produce and star in the lead role in the upcoming TNT drama "Time Heals".  Here's the synopsis:
TIME HEALS takes place at Charlotte Mercy Hospital in North Carolina, where the strong but caring Nancy Hawthorne (Pinkett Smith) continuously fights a battle she often knows she won't win. Whether treating the homeless woman in front of the hospital like a human being or trying to talk a suicidal cancer patient off the ledge, Nancy must challenge hospital administrators, heartless doctors, apathetic colleagues and a system that sometimes forgets it's there to serve the sick.
Recently widowed and the mother of a smart, willful teenager, Nancy juggles her career with her equally important role as a single parent. Between the two, she barely has time for herself and has difficulty keeping things together. But she knows she has to. She can't give up on anyone. That's what her passion requires; it's what it takes to be a hero.
No word on when it kicks off just yet. Oh look. 
Johnny Boy Legend's
girl got a job:
His model girlfriend
Christine Teagan
is a catalog model for Body Central lingerie and clothing.  We all suspected she would be using this relationship to book modeling gigs.  I bet she didn't think this was as good as it was gonna get.  So um, yeah. More when you read the rest... YBf chick
Monique Coleman
and
Dania Ramirez
have been hitting up the free swag suites for the PrimeTime Emmy awards: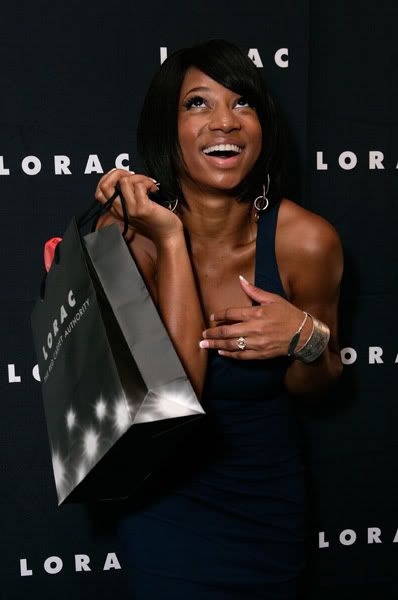 Cute looks for the ladies.
And
Estelle
was spotted at the Vodafone event in London.
DeGuire/Williamson/Simmons
​ ​
​ ​ ​