Dame Dash's Baby Mama Wanted For Arrest!+CW Playing Games With "The Game"?
​
Sep 16 | by Natasha
​ ​ ​ ​
It's been drama for weeks now with
Dame Dash
and his teen son's mother
Linda Williams
.  And after she ignored the judges' orders yet again to bring her and Dame's son
Boogie
to court,
she now has a warrant out for her arrest.
Dame claims she's been holding lil Boogie hostage from him and it looks like he was right.  This could get even uglier... TV Fab updates on "The Game" and
Tatyana Ali
's new gig when you read the rest...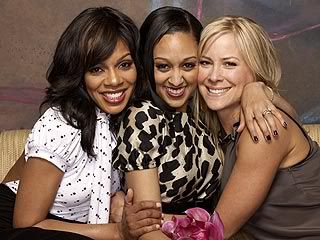 Rumors swirled a few months ago that CW was moving "The Game" to Fridays. And it's definitely true. The lineup on the CW website definitely lists "The Game" in the Friday night 8:30p est time and is premiering next month. I mean, damn. If they didn't want the show they should have just canceled that ish last year when they were heavily considering it. But this right here is just a mess. Boo CW.
Tatyana Ali is starring in this new web series called "Buppies". Obviously it's about elite young black women on their quest for love, fashion, and friendship. Yada yada yada. Not sure how you'll be able to watch or how often, but here's the trailer: Not sure if this was the right move if you're trying to make a valid comeback Tatyana.
​ ​
​ ​ ​