SPOTTED: Idris Elba's Estranged Wife+And Update On The Real Housewives Of ATL
​
Sep 11 | by Natasha
​ ​ ​ ​
On-screen hottie
Idris Elba
has been keeping his former wife and baby's mother under wraps throughout his career.  But now she's hitting the celeb scene extra hard as I hear she no longer wants to play silence keeper anymore.  Sources spotted Idris' ex-wife 
Kim Elba
, an Atlanta makeup artist, schmoozing at Corks and Forks in the ATL with some top chefs.  And I hear she's also been visiting the set of a brand new adult talk show she may be a co-star of.   She may even make an appearance on the upcoming seaosn of Bravo's "Real Housewives of Atlanta" since "Housewife" co-star
Sheree Whitfield
(ex-wife of NFLer
Bob Whitfield
) is her new BFF: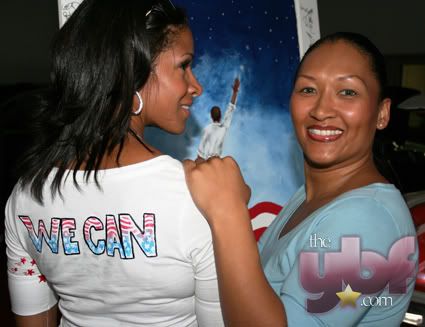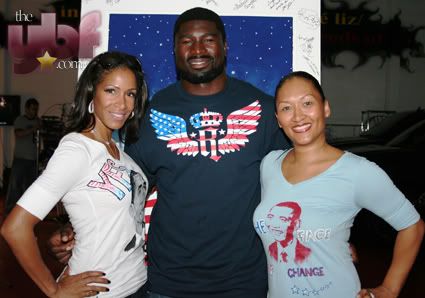 The two friends were spotted kicking it with ATL Falcon
Ovie Mughelli
on the set of a recent Obama campaign celeb support video.  Apparently Southern musical artists and celebs are making their own Yes We Can video.  I'm told the Atlanta socialites are always on the scene and are trying their damndest for celeb status without their husbands' help.  Yeah, good luck with that...   An update on the upcoming season of "Real Housewives of the ATL" when you read the rest...  
We've been waiting for months for "The Real Housewives of Atlanta" to make its debut, and it's finally here.  The series is officially set to kick off Tuesday, Oct. 7th at 9p ET/PT.  A snippet from the press release:
Expanding on the success of the original hit series, "The Real Housewives of Orange County," and the watercooler sensation, "The Real Housewives of New York City," Bravo is heading south for its newest installment, "The Real Housewives of Atlanta."  The seven episode series will follow five women from Atlanta's social elite – from NBA and NFL wives to sassy single moms – as they juggle their burgeoning careers and busy home lives with the whirl of the south's hottest city.
Get excited... On a side note, check out
Diddy's
response about people blasting him about not really owning his real jet after they researched his name on the private jet rolodex:
Funny.As.Hell.  
​ ​
​ ​ ​