Michelle Obama Does "Ellen"+Weezy Is Still A Mess
Sep 09 | by Natasha
Michelle O. hit up "The Ellen Degeneres" show yesterday for the premiere of her new season:
The Jonas Brothers were on as well and she and Ellen did a skit about them and their crazed tweenybop fans. And chick came out brushing her shoulders off a la Barack:
She also talks about how her daughters Malia and Sasha think sleepovers and the Jonas Brothers are much more intriguing than Daddy running for President. Loves it.
News on why Weezy skipped out on his Fashion Rocks! appearance when you read the rest...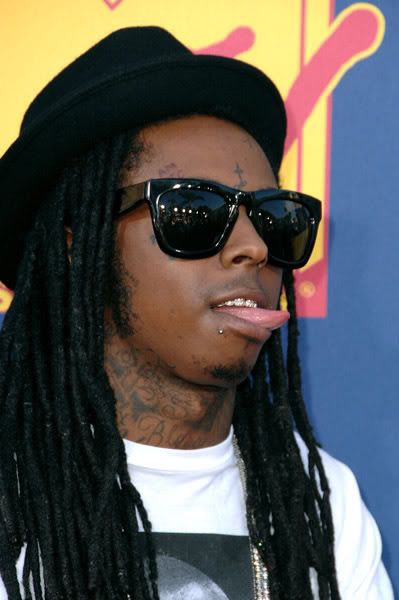 Lil Wayne was scheduled to appear at Fashion Rocks! in NY this past Friday. But he was a no show because he didn't want to check his baggage at venue. So while he actually showed up, he wasn't allowed inside because clearly he had something to hide in his bags. The NY Post reports:
"When Lil' Wayne showed up to perform in the show - and he showed up on time - he was carrying a bag and refused, point blank, to go through security," one senior production person told us. "Everyone else - including Rihanna, Chris Brown, Beyoncé, Justin Timberlake and Kid Rock - went through security, and we couldn't make an exception. He's obviously not a Boy Scout and has a history with drugs and guns.
"But he wouldn't budge and refused to have his bag searched or have a security wand passed over him. Then he started getting abusive: 'I don't need your [bleeping] show - I'm leaving if you make me do this.' So he had to leave, I mean, who knows what was in that bag?
"He got back in the car we'd paid for and drove off. Minutes later, we got frantic calls from his management and record label begging us to have him back. We said, 'OK, we have an opening at 7 p.m.' The next thing you know, Wayne's people are saying, 'Can we do a bit later. He's not going to be ready.'
"We had a crew of 250 people waiting for him . . . Then he calls at, like, 9:30 and says, 'I'm five blocks away,' which is like 500 blocks away in New York traffic, so we just pulled the plug. It was just so disrespectful to the crew and to the 5,000 audience members. Unbelievable."
Get it together Weezy!