Is That You Soulja Boy??
​
Sep 04 | by Natasha
​ ​ ​ ​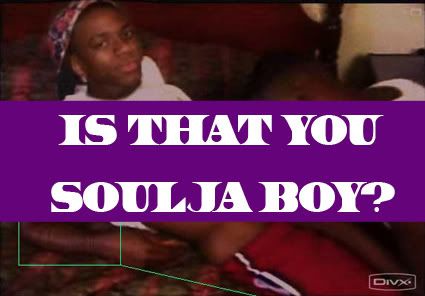 Yeah....these pics are about to cause some trouble. 
Soulja Boy
has been linked to a gay sex tape DVD in which he is allegedly starring in.  Now y'all know I rarely, if ever, even talk about rumors like this even when there is accompanying video/pics.  And it's usually because it's so obviously fake or made up or just untrue.  And frankly, we're just to classy around here for ish like this. *
snickers
* But um, these pics right here are down right suspect to say the least.  I'm well aware folks can do some things with photoshop these days....but damn if this ish doesn't look as real as you can get.   The uncensored pics are after the jump when you read the rest.  And obviously, for the slow freaks, it's NSFW....  
Click above pic for completely uncensored image Very similar tattoo on the arm (we see the front of it on one pic and the back on another), same dimpled chin, same earrings, very similar and younger face. And if it walks like a duck... Soulja Boy tell that! Cue the Youtube denial video from Soulja Boy in 5...4...3...      
​ ​
​ ​ ​