Coupledom: So You're About To Wife THIS Reggie?+What's Really Hood Mario & Karina?
​
Aug 18 | by Natasha
​ ​ ​ ​
Oh how we love marriage talk on the lips of
porn stars
celebrities
chicks who think their man is faithful.  It calls for a good (and somewhat evil) laugh.  A while back rumors flew about
Kim Kardashian
rocking an engagement ring given to her by her beau
Reggie Bush
and the two possibly already being married.  But those were just rumors (plus Kim's already done the eloping thing before so it's now played out).  And now our favorite baby talking "I'm not full of silicone" chick Kim K. is saying she and Reggie are in heavy talks for marriage.  I'm pretty sure plans are being made as we type. </sarcasm>  She told
People
about her plans to marry Reggie soon.  When asked if the lovebirds were headed down the aisle soon:
I hope so," Kardashian said after being asked if she's found Mr. Right. "I think I finally made the right choice. He's just a really sweet, normal guy." As for marriage, "we talk about it," says Kardashian. "As soon as we're done filming [Keeping Up with the Kardashians] I'm probably going to spend most of my time in New Orleans for a little bit until he's done [with the NFL season]."
I'm sure New Orleans folks and Saints fans are gonna love that.  I just hope Kimmy doesn't have to sit next to one of Reggie's very well known jump offs who attend every one of his games in the Superdome.  Worse things have happened in the baller world.  But you ain't heard that from me...   Interesting pics of R&B singer
Mario
and his ex-dance partner
Karina Smirnoff
 when you read the rest...  
So...yeah. 
Mario
escorted his ex DWTS partner
Karina Smirnoff
to the ALMA Awards last night.  And the two were looking pretty cozy.  It was rumored a while back they had a little thing poppin' off.   Karina and
Mario Lopez
are now broken up and this isn't the first time we all saw the chemistry between her and
this
Mario: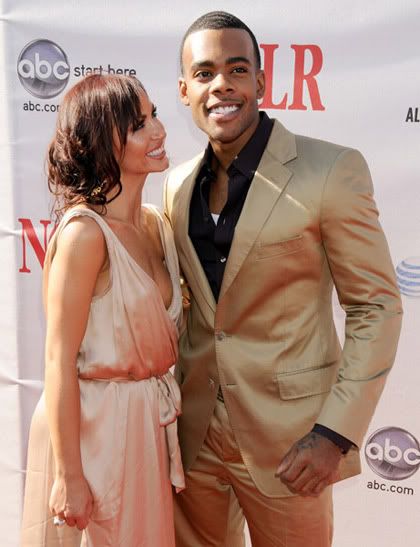 I'm sure it's all for publicity, but something tells me one of them is about to get caught up in the hype and catch some feelings.  If they haven't already....
​ ​
​ ​ ​