Evening S's & G's
​
Aug 12 | by Natasha
​ ​ ​ ​
Because I was sent these pics and just couldn't go without posting them for sh*ts and giggles: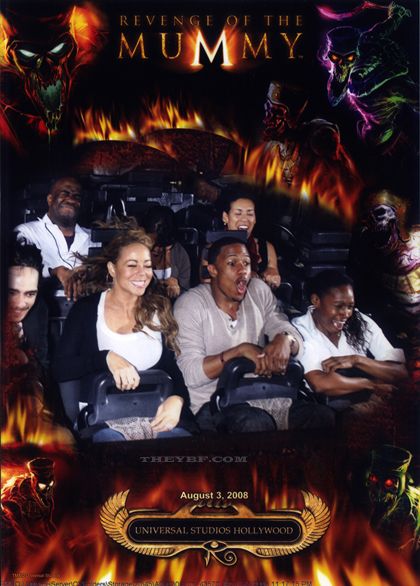 Click pics for larger images   You know all those "candid cameras" hidden on the rides at amusement parks?  Well
Nick and Mariah Cannon
were caught on a few of them as they hit up The Revenge of the Mummy ride and The Simpsons ride at Universal Studios Hollywood last weekend.  Not sure what's really hood with their amusement park obsession but these pics are hella funny to me.  Most of us look a hot ass mess while being tossed around on these rides and damn near want to slap the amusement park worker who tries their damndest to sell us a pic of the foolishness when we exit the ride.  But leave it to MiMi to stike a damn pose while plunging dozens of stories and actually look cute while doing it.  I see all that "candid posing" practice has paid off.  Hilarity.
Universal Studios Hollywood
​ ​
​ ​ ​