Diddy Showcases The First Black Transvestite On Reality TV!
​
Jul 26 | by Natasha
​ ​ ​ ​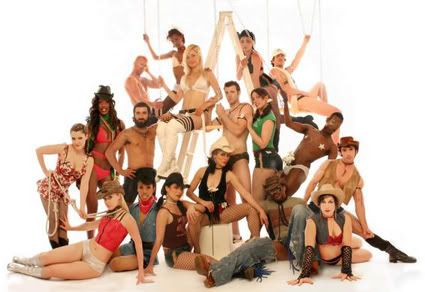 Can YOU pick out the Tranny?      
Leave it to
Diddy
to be a groundbreaker in the field of transvestites. A former PA over at MTV has dished that Diddy has a black transvestite named
Laverne Cox
(pictured above) on his new reality show "I Want To Work For Diddy" premering on MTV Aug. 4th.  As I was sent the e-mail a couple days ago, I wanted to check thing out for myself to make sure this wasn't some bull being put out there.  And last night MTV showed a sneak peek of the new show and lo and behold Laverne was all up and through it.  Ms. Laverne is a former drag queen and is currently an "entertainer" and actor. Here's a snippet of the e-mail I was sent:
I worked as a Production Assistant on Diddy's new show for VH1 that's premiering August 4th, called "Work For Diddy."  The show centers around the young and dumb vying for a chance to work FOR Puff.
What's unknown to the world right now, is that one of the contestants, actress Laverne COX, is a Tranny (still has a ding ding).   Let me tell you that home girl is the FIRST black tranny to be cast on a reality show.  The problem is that some people don't or won't even know.  For Diddy's part, all I can say is "How you doin'...alright!"
  Hot damn.  I'm also told homegirl Laverne is
well known
for gettin' it poppin' with many men...as well as many men in the industry.  I wonder how she landed
this
gig.  Snaps for the kid Diddy.  Laverne can be seen at the beginning (in the red and brown) of the below vid promoting the show (some are beginning to suspect, but they don't know her name, and can't call it):  
  But before this show she took part in a documentary and can be seen strutting her stuff as a tranny prostitute at the 1 minute mark of this vid:
Just...wow.   Check out more pics of Ms. Laverne when you read the rest...  
  Chick you betta WORK!  You can check Laverne's myspace page
here
.  
​ ​
​ ​ ​