Nicole's Baby Harlow+Brandy & Jackie Long Kickin' It?+Rihanna's Brother Has Words For Chris Brown
​
Feb 28 | by Natasha
​ ​ ​ ​
So
Rihanna's
 younger brother
Rorrey
 reportedly had some words for her man
Chris Brown
when Chris visited Barbados and her fam: 
Rihanna's brother Rorrey on the right talking to Chris while partying it up in Barbados
OK!
Magazine is reporting on Rorrey and Chris' convo and Chris' meeting the fam: 
"He told Chris that PDA was tacky and said he may be a little too short for his sister!" Still, the pal adds, "Chris loved seeing all the pictures in Rihanna's family home of her winning Miss Combermere, [a local beauty pageant she won at 16], lounging on the beach and singing in local clubs. He cares about Rihanna. Things have started really heating up from friends to something more."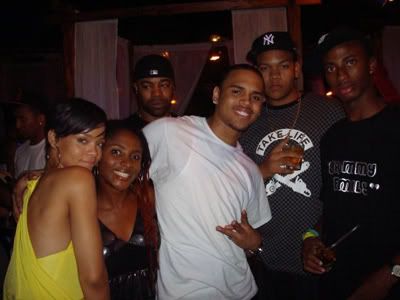 And clearly everybody partied it up nicely after.
Rih Rih's youngest brother Rijad was there-maybe there's no age limit for the clubs?
Pic Source: ONTD
Fun times.
Click image for pic
Finally: It's
Nicole Richie
and Baby
Harlow Winter Kate Madden
.  The baby is making her magazine debut on stands this Friday.   And look who was spotted out at dinner together recently:
B-Rocka
, fine ass
Jackie Long
, and some dude who joined in to make this dinner look less intimate.  Just kidding....kinda.  I'm
sure
Brandy wouldn't dip in her friend
Serena's
 leftovers.  But come to think of it, Serena has been spending all her "friend time" lately with
Kelly Rowland
, who is no longer on the friend tip with Brandy.  Hmmm.  Interesting.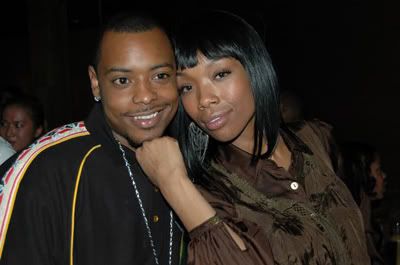 And she was spotted out partying recently as well.  Nice look on her. Stay fabulous!
​ ​
​ ​ ​