Barack & Vivica Do The Mags+Alicia Does Giant...And Lena Horne+The Jackson 5 Making A New Year's Comeback?
​
Dec 13 | by Natasha
​ ​ ​ ​
The YBF has the exclusive first look at the upcoming issue of
Black Enterprise
mag:
Barack
is featured on the cover and pages of the mag.  And here's a sneak peek at the issue: 
Democratic presidential candidate Barack Obama says "the same old Washington textbook campaigns just won't do, this election" and "telling the American people what we think they want to hear—instead of telling the American people what they need to hear—will no longer be acceptable." So goes the surging message of Barack Obama, the man who has presented America with the real possibility of an elected black president. With the primary season quickly approaching, black enterprise (be) hit the campaign trail with the electrifying contender, gaining exclusive insight into his platform and strategy. In the January issue cover feature, "Why Barack Obama Should Be President," be builds a compelling case for Obama becoming president of the United States and how he will win the Oval Office this November.
 Nice.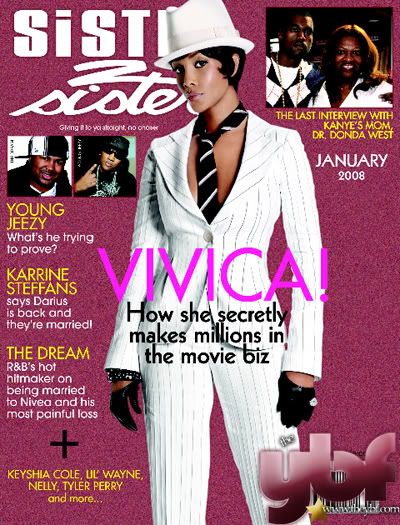 Vivica
is covering the pages of the January issue of
S2S mag
. In addition to all the money Vivica's been making by producing her projects, she also talks about calling her parents to tell them about the DUI arrest.  
AK
is rocking the pages of the Dec/Jan issue of
GIANT
mag:
Alicia Keys Online
has her full mag spread.  Hot.  And word has it
Oprah
has nabbed Ms. Keys to portray my fabulous Soror 
Lena Horne
in a biopic on Ms. Horne's life.  Of course Lady O is producing it and they'll kick off the filming next year. Stop the presses.:  
Jermaine Dupri
is clearly getting in good with the Jackson family. 
He's reportedly getting the entire Jackson 5 together
--even Mike--to do a New Year's Eve reunion concert in Atlanta.  Of course it'll be at his new establishment Studio 72 and tix are on sale now. And news on JD's girl
Janet
: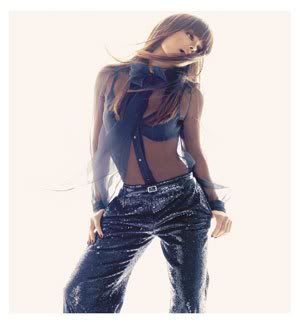 The title of her new Feb. 26th album is
Discipline
.  She likes those Control
ish
titles huh? Stay fab!
​ ​
​ ​ ​