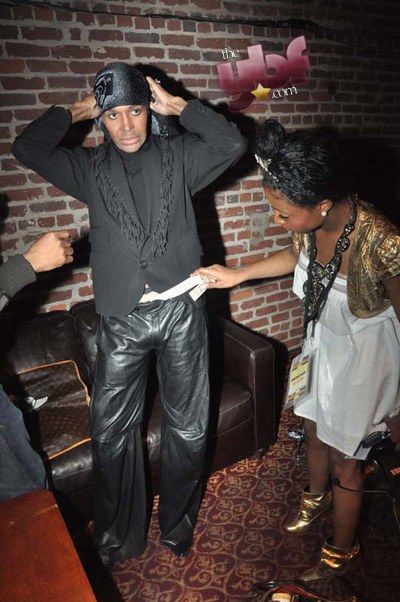 This ish is flat out unacceptable.
Dwight Eubanks
--fashion and hair care extraordinaire--and his friends have hit rock f'in bottom with this tomfoolery right here. So last night in ATL (where else?), a fashion show went down. And the Mistress of Ceremonies was your Uncle Dwight. Oh, but it gets better...
He decided to drop trow and get dressed in front of everybody there.
One of his fellow ATL hair care professionals
Derek J
(who works with some ATL celebs) was there too...looking like this. In the sheer white blouse and gold chains and genie pants. YBF's ATL snitches had to leave the party early because the foolywang material was way too thick. Real talk. Someone else who left out the event disappointed was Tiffany over at Atlanta Gossip. She reported:
The biggest disappointments of the evening was the bad execution, poor presenters, people in the audience talking during the presentation and the shows host, Mr. Dwight Eubanks of "The Real Housewives of Atlanta." He made a complete mockery out of himself and acted like a diva changing clothes multiple times and getting drunk on stage. He even asked a white lady about the size of his d--k and someone had to take the drink out of his hands. What an idiot!!! Does he even have a d--k? His PR team really needs to go into overtime today and to talk him. He needs professional counseling! I'm convinced that anything associated with "The Real Housewives of Atlanta," I want nothing to do with it. That show is really CLASSLESS and I will NOT TUNE IN THE SECOND SEASON!!!
Smdh.... More foolishness (and possibly NSFW) when you read the rest....