Beyonce
and
Jay-Z
hit up
Solange
's concert in Switzerland right after Bey performed Saturday night.  But the Swiss press are going bananas over the fact that The Carters barely spoke 2 words to each other all night.  Reportedly, Beyonce sipped on her champagne while Jay chatted it up with friends.  They didn't even sit next to each other the whole night.  Lover's quarrel or just living their regular life comfortable with their relationship? A couple doesn't have to be swapping spit and fawning all over each other in order for them to be on good terms.  But sometimes, when there's smoke there's fire.  Hope not though.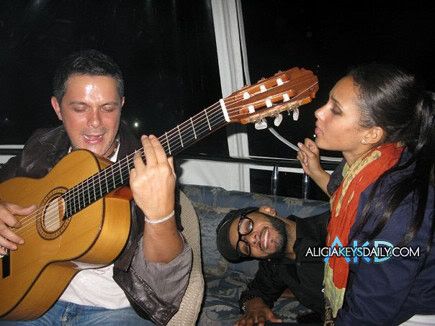 And
Swizz Beatz
let his relationship status with
Alicia Keys
slip.  He told the
Daily News
that he is indeed in love with her and yes, she's the one who threw
that party for him at the Guggenheim Museum
a while back.  Despite him trying to tell everyone it was a lie.  Here's what Swizzy had to say about his new "Best I Ever Had" remix track (which is rumored to be about his
mistress
chick Alicia):
"But we're nowhere near ready for a baby or a ring," laughs Swizz, aka Kasseem Dean. "This whole song is not about Alicia. The part about her cooking breakfast for me naked — she never done that for me." "What we have is so precious."
I hear he and
Mashonda
are still trying to get that divorce squared away.  The verses in question:
Wake up in the morning and my baby cooked me breakfast, A's naked wearing nothing on but a necklace … Yeah, she say she wanna treat me like a king; I get big gifts so the money ain't a damn thing She gave me a party at the Guggenheim … What's next? The ring? The baby? She really loves me!
Mmmhmm. More dish when you read the rest...