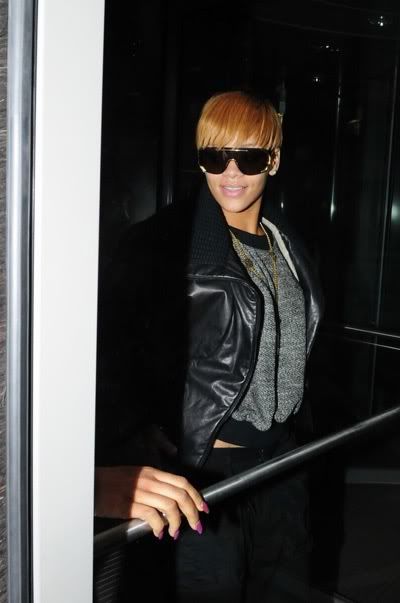 Your favorite Rude Girl was spotted arriving at her Berlin hotel today. 
Rihanna
is overseas still promo'ing
Rated R
.  But that doesn't mean she hasn't already started working on her next LP.  Producer
Sean Garrett
dished on Rihanna's next album. He's already finished a certified radio banger for her upbeat new LP:
"I got a record on Rihanna's new album," Garrett tells Rapup.com. "She's got some surprises. The record I gave her was very, very positive, very big. It's a f---ing smash."
The track, he says, is "a humongous radio record," more in tune with her previous releases like "Umbrella" and even her latest single, "Rude Boy." "It's just so infectious. It's about getting past any drama and just being happy to be alive," he explained. "It's an encouraging record. It feels great, and it's got great tempo. I made sure that it was bulletproof.
"It should be a single unless something crazy happens," he continued. "It's hot as f---. I think it's a record that's gonna stay on the radio for a long time."
Garrett, like some fans and critics, was surprised about the dark material on Rated R. — and not in a good way. "Whenever I think of Rihanna, it makes me happy. To be honest, I wasn't really that excited about hearing her in a dark zone," he said. "I love Rihanna for being that girl. ... She's like the lil' fantasy chick — nice brown skin, beautiful woman with a Caribbean swagger that's ridiculous."
Gotta admit...it'll be interesting to hear. Still loving "Rude Boy." More pics under the cut...