NBA ALL-STAR GAME: 8 Moments You Have To See! Beyonce Lets Rockets Mascot Dance With Blue Ivy, LeBron James Wins MVP, Cassie Shows TONS Of Leg
Feb 19 | by _YBF
We've rounded up the top 8 moments you need to see from the 2018 NBA All-Star Game. Go inside to see the cuteness that is Blue Ivy, Beyonce, LeBron James, Cardi B and more….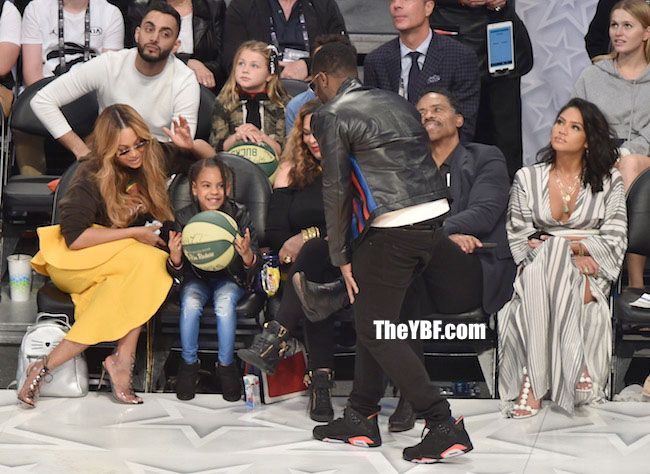 1. Yes, it's all about the game at an NBA event, but when celeb kiddies make an appearance its hard not to keep your eyes off of them.
Blue Ivy was busy stealing the show courtside at the Staples Center during the 2018 NBA All-Star Game last night. The 6-year-old, seated between her mother Beyonce, grandmother Tina Lawson and Tina's husband Richard Lawson, was having tons of fun tossing the ball back and forth with "Uncle" Diddy.
Then, the Houston Rockets mascot walked over and picked big sister Blue up to do the "twist" while Uncle Diddy snapped flicks. We were on the edge of our chairs hoping bodyguard Julius didn't pop out of nowhere and bodyslam him.
Check it:
Cute!
And, of course, there's always time for selfies with mom:
Gotta love it.
2. Before the game kicked off, team captains LeBron James and Steph Curry addressed the crowd, announcing that they were playing to donate money to charity. The winning team's charity will receive $350,000 and the losing team's charity will still get a prize, totaling $150,000. 3. King James chose the After-School All-Stars Los Angeles, and Steph picked the Brotherhood Crusade.
This was the first year where two captains were chosen and they built their own squad verses how it was done in previous years where the Eastern Conference went up against the Western Conference.
Peep the clip above.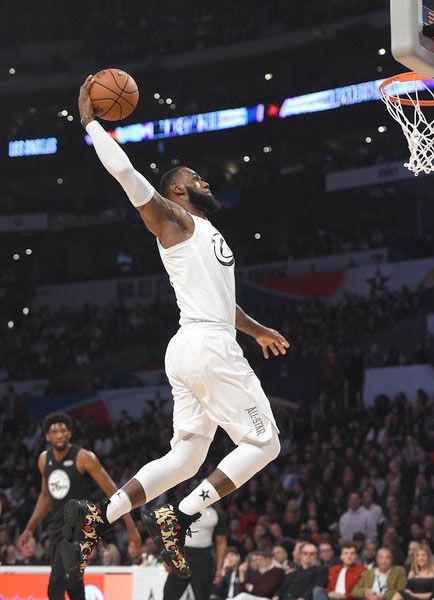 3. King James proves WHY he's the KING. In his 14th year in the NBA, he's still out here dunking like youngin'. Check out his reverse alley oop from his teammate Russell Westbrook below:
4. Yep, this is why he's KING.
Team LeBron defeated Team Steph, 148-145. It was a CLOSE game in the fourth quarter. However, Bron and his handpicked teammates took home the victory. And LeBron was awarded his THIRD All-Star Game MVP. He finished with 29 points, 10 rebounds, and 8 assists. Peep his full acceptance speech below:
Family affair! LeBron had his children Zhuri, Bronny and Bryce there to witness his greatness.
Then, this happened...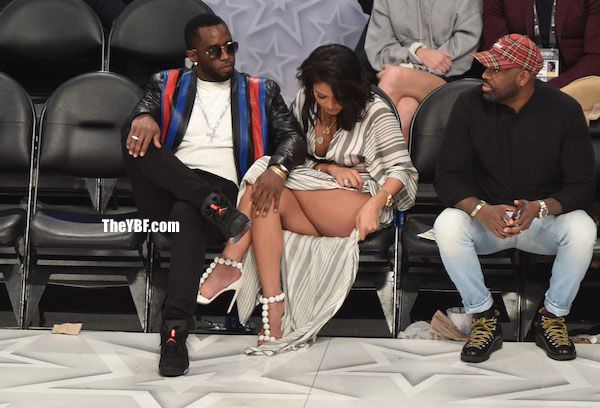 5. Cassie almost suffered a wardrobe malfunction as her dress slit showed off some major leg action. Her boyfriend Diddy kept it just as stylish in a custom jacket from 5001 Flavors Clothing Co.
Before the show kicked off...
6. Comedian/actor Kevin Hart was tapped to host the event and he meant he was going to have his shine. First, he served up an interesting show before the game, starring Jamie Foxx, Queen Latifah, Ludacris, Adam Devine and Rob Riggle. Check it above.
7. Then, he spent 12 minutes (which felt like an eternity) introducing each player. And he made sure to have everyone laughing as he ROASTED every last one of them. Get your laugh on above.
8. And look who else was in the mix.
Cardi B was on her "Bartier Cardi" steez courtside during the game. Ha!
Photos: Instar/Getty