[UPDATE] FOUL ON THE PLAY! Fergie Mutilates National Anthem At NBA All-Star Game + Draymond Green Explains His Meme Worthy Reaction
Feb 19 | by _YBF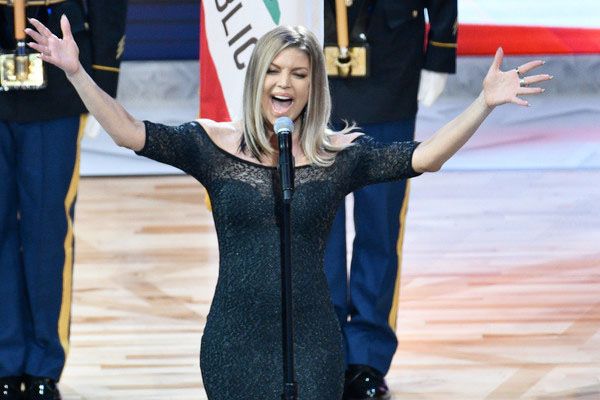 So, about Fergie's National Anthem performance during the 2018 NBA All-Star Game. It was train wreck. Check out her performance inside, plus the hilarious celeb reactions...
UPDATE: Fergie's apologizing y'all. She was just trying to "do something special." She said in a statement today:
"I've always been honored and proud to perform the national anthem and last night I wanted to try something special for the NBA. I'm a risk taker artistically, but clearly this rendition didn't strike the intended tone. I love this country and honestly tried my best."
----------
Let's just call a spade a spade.
Fergie didn't do the National Anthem any justice to kick off the 2018 NBA All-Star game held at the Staples Center last night. In fact, she butchered it. That is, if you were expecting even a semi-traditional performance.
The former Black Eyed Peas singer tuned "The Four" singing competition judge tried to put her own spin on the song, but she failed. Miserably. Well, this according to the internets. And she got slow roasted for her slow, seductive verion of our Anthem.
It was different, sure. It was NO Whitney Houston rendition, though, by far.
We're not the only ones who realized how cringey it was. At one point during her performance, the whole Staples Center seemingly burst into laughter. It's so baffling because Fergie has a set of pipes on her.
We just want to know if Diddy, who was there front and center, would let his fellow judge make it to the next round on "The 4" with this performance.
Check it (if you can stand it) below:
What's really good Fergie?
During her performance, the cameras were spanning the court and caught Golden States Warriors baller Draymond Green looking baffled, and then laughing at what he was hearing:
After the game, he tried to explain his reaction. Keyword: Tried.
Draymond wasn't the only one with a funny reaction:
Former NBA star Charles Barkley was NOT feeling Fergie's performance and he tried to react to it, but Shaq wouldn't let him bash her on national television. Peep the clip above.
Meanwhile back in the states... I leave for a couple of days and y'all lose your muthafucking mind!! Why did this happen? Not everyone supposed to do this y'all! You might as well should have ask me to sing. Wtf?!https://t.co/M7eIzgGBrk

— Leslie Jones (@Lesdoggg) February 19, 2018
"SNL" comedienne Leslie Jones is all the way in South Korea for the 2018 Winter Olympics, but she's still in the loop with what's going on over here in the States.
And then the Internet takes the cake with the slander:
*dead*
It wasn't all bad news. Eniko Hart, who was sitting courtside with hubby Kevin Hart, and Mariah Carey, who's caught her fair share of shade after a live tv performance, were here for it. Eniko tweeted in supported and MiMi said to ignore the haters.
After her performance, "The Four" host made it to her front row seat, snapping it up with DJ Khaled, Migos, Cardi B, Snoop Dogg, Snoop's wife Shante Broadus and her dad:
Oh Fergs. Chick's post-divorce revenge body is on point though.
Photos: Getty