Simone Biles Tearfully Responds To Larry Nassar's Sentencing – 'He Took A Part Of Me I Can't Get Back'
Feb 01 | by _YBF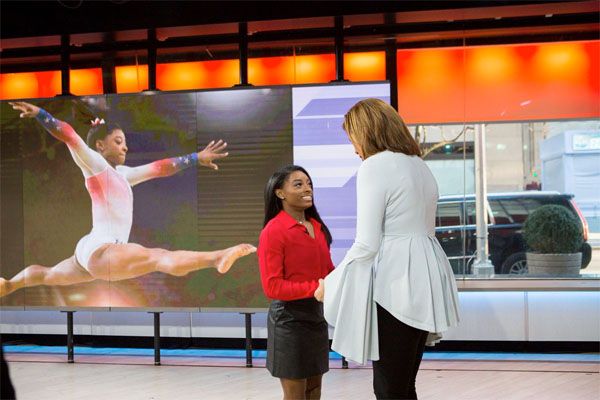 Simone Biles gets choked up talking about former U.S. Gymnastics doctor Larry Nassar's sentencing for sexual abuse. See the emotional moment inside…
Olympic gymnast Simone Biles opens up about how she was sexually abused by former U.S. Gymnastics doctor Larry Nassar following his sentencing.
Last week, Larry Nassar was sentenced to 40 to 175 years in prisons for sexually abusing young gymnastics over 30 years. Earlier this month, Simone revealed she was one of the survivors who were sexually abused by him.
Following his sentencing, she hopped on Twitter and tweeted, "To Judge Aquilina : THANK YOU, YOU ARE MY HERO. & Shout out to all of the survivors for being so brave & speaking like the queens that you are while looking at that monster. He will no longer have the power to steal our happiness or joy. I stand with every one of you."
Now, she's speaking about her experience for the first time during a television appearance.
The 20-year-old sat down with Hoda Kotb on the "TODAY" show to respond to Larry Nassar's sentencing.
During an emotional moment, Simone got choked up while talking about her abuser getting locked away for hurting her and hundreds of other young ladies.
"I think it's very hard for someone to go through what I've gone through recently and it's very hard to talk about," she said. "But other than that I think the judge is my hero, just because she gave it to him straight and didn't let him get any power of any of the girls and letting the girls go and speak was very powerful."
Hoda told Simone, "He can't hurt you anymore."

"No he cannot," she tearfully responded.
Peep the clip below:
A powerful moment between Hoda and Simone Biles while discussing Larry Nassar:

"He can't hurt you anymore." -@hodakotb
"No, he cannot." -@simone_biles pic.twitter.com/lRX0RZeLfy

— TODAY (@TODAYshow) January 31, 2018
The four-time gold medalist said initially she told her parents she wasn't absued by Nassar because she didn't realize what he did to her was sexual abuse. She said when she realized he molested her, she broke down in tears, "bawling my eyes out."
"It feels like he took a part of me that I can't get back," she said.
These days she said she has trust issues and she's even scared to walk down the street alone.
So tragic.
You can see her full interview here.
After the interview, Simone tweeted Hoda with love:
I love you... #brave https://t.co/tb7LWvaj1y

— Hoda Kotb (@hodakotb) January 31, 2018
Keep your head up Simone!
Photos: Hoda's Twitter