Tracee Ellis Ross May Be Saying #TIMESUP To 'black-ish' Since She's Paid Significantly LESS Than Co-Star Anthony Anderson
Jan 19 | by _YBF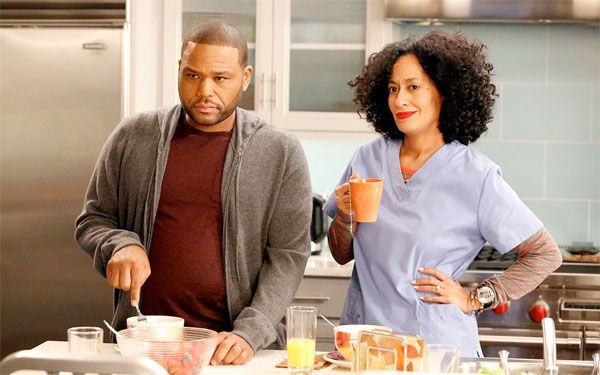 Tracee Ellis Ross is taking a stand to help bridge the gender pay disparity gap. Reportedly. Get the deets on the star possibly backing away from the show and more inside…
"black-ish" star Anthony Anderson is reportedly getting paid way more money than Tracee Ellis Ross. No surprise there. It's a known fact men make more money than women in this country even when she's more qualified. Hollywood or not.
With the #TIMESUP movement making waves, shedding light on sexual harassment and gender pay disparity, the 45-year-old actress is ringing her own alarm.
The former "Girlfriends" star has reportedly threatened to cut back her appearance on "black-ish" after learning she's getting paid significantly less than her co-star Anthony Anderson.
However, it's noted that Anthony also executive produces the show as well, which could account for the uneven salaries. But her threatening to cut back appearing in episodes makes us wonder how big is this gap? Should Anthony be paid more since he's also serves as executive producer? Possibly. But, Tracee feels it shouldn't be a large difference being that her role is just as important as his.
As of 2014, Anthony's salary was a reported $100K an episode while Tracee's was a reported $80K an episode. That's likey changed by now, and the disparity may be greater based on the recent discussion Tracee had. It's unclear exactly how much either of the stars make at this time.
What's more is that Tracee has won a Golden Globe for Best Actress In A Comedy Or Musical TV Series last year. She made history too, becoming the first black woman to do so in 35 years. She has also been nominated twice for an EMMY award.
As for her co-star, Anthony has been nominated for several Golden Globes and EMMYs, but has not nabbed a win when it comes to those major awards…yet.
Tracee reportedly said she may opt to appear in far less episodes if her pay doesn't increase. That will free up her time to appear on another show and get extra compensation from there.
THR reports:
With negotiations for the fifth season ongoing, sources say Ellis Ross feels that if she isn't brought up to Anderson's level, she may opt to appear in fewer episodes to make up the disparity by guesting on another show. The tactic has split opinions within Time's Up, with some worried that it's more a retreat than a forward-looking solution (fitting in extra work isn't always feasible, and often an actress wouldn't earn as much guesting as she would as a network star). A network source says a new deal will significantly increase her compensation and cautioned that Anderson and Ellis Ross' roles aren't equal given that he has been attached to Black-ish from the start and is an executive producer. Still, until a few weeks ago, this type of candid conversation would never have taken place outside an actress' agency.
It will be interesting to see how it all ends up playing out. And we'll know for sure once season 5 of "black-ish" rolls around.
Thoughts?
Photo: ABC