IT'S MURDAAAAA! Ja Rule Is Coming For 50's NECK (And Another Body Part) & Re-Igniting Their Beef
Jan 19 | by Natasha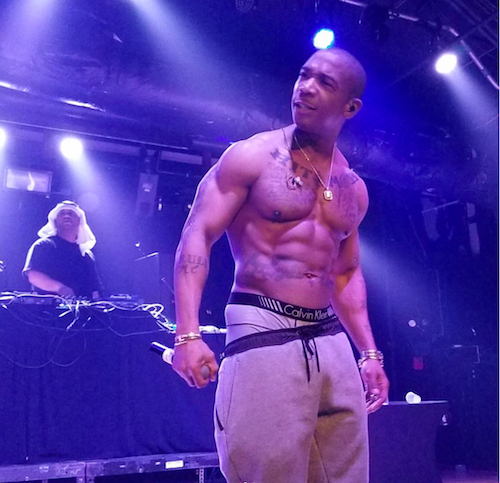 Their beef is officially reignited. Ja Rule just put his foot on the gas, and 50 Cent's neck, with the lashing he's currently handing out. Deets inside...
It all started with this Tweet a couple hours ago:
Fun hip hop FACT: @50cent is PUSSY...

— Ja Rule (@Ruleyork) January 19, 2018
Well, to be fair, it actually all started (again) when 50 Cent appeared on Big Boy's Neighborhood this week during a Den of Thieves press appearance.
When asked what he would do if he ran into Ja Rule, the G-Unit rapper mumbled said, "I'd put him to bed."
And, in 2018, after a decade-and-a-half beef, Ja wasted no time clapping back.
This how @MsVivicaFox used to do @50cent #Ticklebooty ass lil boy!!!#Murderinctvseries https://t.co/t8irUmf9c8

— Ja Rule (@Ruleyork) January 19, 2018
Not sure why alluding to gay sex is how Ja chooses to throw shade though. We have a feeling the LGBTQ community won't be laughing.
Then there's this:
And to all you journalist, bloggers, radio personalities DONT BE SCARED TO ASK @50cent why did he get an order of protection or did I whoop him out at the studio or did he talk to the feds... #bitchassnigga

— Ja Rule (@Ruleyork) January 19, 2018
So 50...what say you?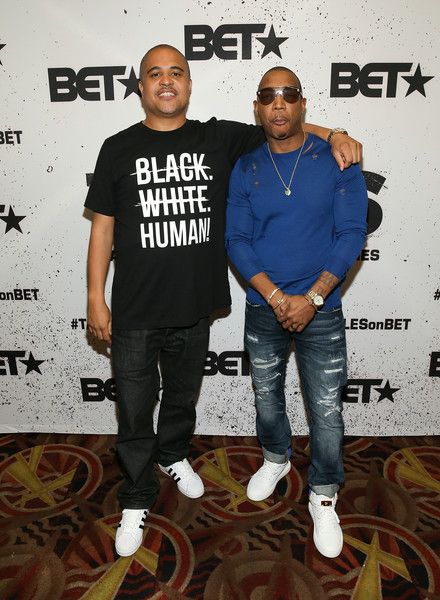 We should point out how it's quite genius of Ja Rule to pull the same publicity stunt 50 always pulls when he has a new project - talking ish. Ja and Irv Gotti are working on The Murder Inc. TV Series, which Ja conveniently hashtagged in most of his Tweets.
Black Twitter's reaction to the trending topic...hilarity.
The new kids get to see Ja Rule and 50 beef in 2018. The lord has blessed y'all

— Sonny (@SonnyDigital) January 19, 2018
"The Ja Rule and 50 Cent beef back!"

Black Twitter: pic.twitter.com/vSFMrSPF1K

— Josiah Johnson (@KingJosiah54) January 19, 2018
The Ja Rule and 50 Cent are beefing starter pack. pic.twitter.com/h6H80RbYiv

— Nice Kicks (@nicekicks) January 19, 2018
*50 Cent Destroys Ja Rule's Career*

15 years later: https://t.co/iWyVX9MnPk

— IGZ (@igzrap) January 19, 2018
Twitter funny AF you got 22-23 year olds tweeting about the Ja Rule 50 cent beef like those were good times .. nigga You was 5 when all this was going on

— Wyatt Purp (@whatnthehill) January 19, 2018
"Ja Rule, how long have you been beefing with 50 Cent?"

Ja: pic.twitter.com/uiFHfNPQyu

— Roxxy Haze (@iamroxxyhaze) January 19, 2018
When Ja Rule catch his wife and kids watching Power pic.twitter.com/JRUuAti7Kh

— EL FOOSAY (@SheHatesJacoby) January 19, 2018
Lmao Ja Rule woke up this morning like pic.twitter.com/i6dH0Read7

— Witness The Litness (@JEFF2FUNNY) January 19, 2018
Ja Rule when he goes to the bodega and his change is 50 cents pic.twitter.com/v5tJqwp7BD

— YoungAndDecent (@YoungAndDecent) January 19, 2018
Ja Rule sneaking in to watch @50cent's movie Den of Thieves tonight pic.twitter.com/dYxVFI7Dmh

— IGZ (@igzrap) January 19, 2018
Ja Rule after firing off those tweets & thinking he's now won this beef pic.twitter.com/VCIgScbMfx

— rosechocglam (@rosechocglam) January 19, 2018
50 Cent and Ja Rule beef in 2018 pic.twitter.com/DAzGPw88qM

— Meer (@NYCMeer) January 19, 2018
How Ja Rule get the Twitter app on his Motorola 2 Way pager?

— Alvin aqua Blanco (@Aqua174) January 19, 2018
Y'all really ain't ish for this.
Photos: Ja's IG/Getty