Serena Williams Speaks On Black Women's High Post-Pregnancy Death Rate, Sheds Tears Reading Other Mothers' Stories
Jan 16 | by _YBF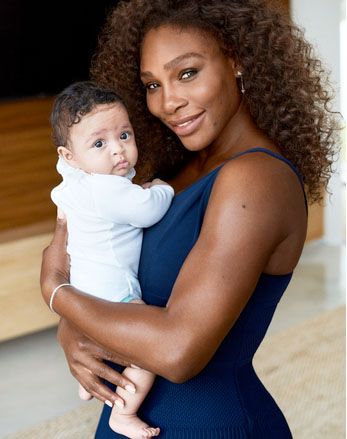 Serena Williams reflects on the complications she endured while giving birth which have opened up a conversation about black women's rate of death compared to white women on social media. More inside…
Serena Williams is a champion on the tennis court and off as she has embarked on the wonderful journey of motherhood. Not to mention, she's also a wife now.
The tennis superstar recently opened up in VOGUE magazine about the complications she endured as she gave birth to her first child, Alexis Olympia Ohanian Jr.
The 36-year-old had to undergo an emergency C-section after her daughter's heart rate dropped dangerously low. Baby Olympia was born healthy, but mom still had some complications. Serena ended up suffering a pulmonary embolism, which is blood clots in the lungs. As she was familiar with her medical history, she told the doctors and nurses what to do, but they did not listen. Eventually, they took her advice and they were able to fix the issue.
Now, a conversation about the disproportionate mortality rate of African-American women compared to white women has been hot on social media. Statistics prove that black women are more likely to die from pregnancy (or childbirth-related causes) than white women are.
"I didn't expect that sharing our family's story of Olympia's birth and all of complications after giving birth would start such an outpouring of discussion from women — especially black women — who have faced similar complications and women whose problems go unaddressed," Serena said in a Facebook message attached to an adorable video of Olympia.
"These aren't just stories: according to the CDC, (Center for Disease Control) black women are over 3 times more likely than White women to die from pregnancy- or childbirth-related causes. We have a lot of work to do as a nation and I hope my story can inspire a conversation that gets us to close this gap," she continued.
She's right. There's a huge gap that needs to be closed.
"A black woman is 22 percent more likely to die from heart disease than a white woman, 71 percent more likely to perish from cervical cancer, but 243 percent more likely to die from pregnancy- or childbirth-related causes," a Pro Publica article states.
And it doesn't seem to matter the black woman's status.
"It tells you that you can't educate your way out of this problem," said Raegan McDonald-Mosley, the chief medical officer for Planned Parenthood Federation of America. "You can't health-care-access your way out of this problem. There's something inherently wrong with the system that's not valuing the lives of black women equally to white women."
As black women, we don't need statistics to tell us what we already deal with on a daily. But for those who think we're making this ish up, the proof is in the numbers.
While Serena's birth experience wasn't the greatest, she said she's happy it happened to her and it made her appreciate herself and other women more.
"It made me stronger and it made me appreciate women -- both women with and without kids -- even more. We are powerful!!!"
After sharing her message, she was bombarded with birthing stories from women all around the world. Rena took some time to read them and it got her super emotional.
"I'm in tears with all these stories I have almost read every single one of them- and plan on doing so! I'm glad we can speak out about this. Let's continue to let our voices be heard. That's the only way to make change," she wrote in the comments.
Read her full message below:
So adorbs!
Photo: VOGUE