The Carters Are About To Snatch Our Edges In New 'Family Feud' Video, Peep The Teaser! + Beyonce & Jay Z's House Developer SUED
Dec 28 | by _YBF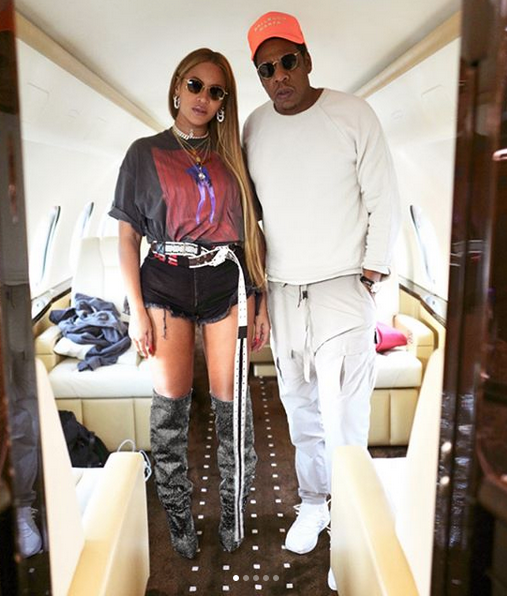 It's coming! Jay Z is about to drop his "Family Feud" visuals where Beyonce and Blue Ivy are the leading stars. Peep the new teaser, plus get the details on the Carters' house developer being sued inside…
We TOLD y'all Beyonce was up to something when she started posting up a slew of pics from her personal stash on social media. And now we know.
Today, Bey's hubby Jay Z announced that the visuals for his "Family Feud" track will be dropping tomorrow (December 29th) at 4:44pm EST. And the "Godfather"-esque video treatment will star two of his leading ladies, Beyonce and Blue Ivy.
In the 30-second teaser, we see Hov walking hand-in-hand with his daughter Blue Ivy inside of a church making their way to the alter. It then cuts to a black man and a white woman kissing passionately before Mrs. Carter makes her cameo. Hmm…could this possibly be a reference to "Becky With The Good Hair?" And Bey looks like she's channeling a Pope of some sort.
The clip then cuts to Hov and Bey sitting in a confessional booth with Mrs. Carter on the priest's side waiting to hear his confession. And she looks pissed.
On the song, Jay raps:
Yeah, I'll f**k up a good thing if you let me

Let me alone, Becky

A man that don't take care his family can't be rich

I'll watch 'Godfather,' I miss that whole sh*t

My consciousness was Michael's common sense

I missed the karma that came as a consequence

N*gga as bustin' off through the curtains 'cause she hurtin'

Kay losin' the babies 'cause their future's uncertain

Nobody wins when the family feuds

We all screwed 'cause we never had the tools."
Peep the teaser below:
Get your popcorn ready. This ish is going to be GOOD.
Speaking of The Carters...
The developers who built the Carters' $88 million Bel-Air estate are being sued!
Qwest Engineering is reportedly suing real estate developer Dean McKillen and Cuesta Estate for stiffing them out of $200,000+ for work they did on the home before the Carter's purchased the home.
TMZ reports:
In the docs, obtained by TMZ, Qwest says McKillen and Cuesta asked them to do all the excavating on the house and to specifically carve out a space for a future basement.

Qwest says that required 2,000 sq. feet at a height of 12 feet and 888 cubic yards of dirt to be taken out ... which they say they quickly wrapped up over 5-6 weeks with McKillen and Cuesta breathing down their necks. When it was time to pay up ... Qwest says McKillen and Cuesta came up empty-handed, and never gave 'em their cash -- an alleged whopping $205,337.

Even more interesting ... Qwest says McKillen and Cuesta can't claim they're broke on this one, 'cause Qwest says the developers made a FAT profit off Bey and Jay in selling it for $88 mil. Qwest says McKillen and Cuesta paid only "a small fraction" of that purchase price to demolish and reconstruct the home that was eventually sold.
Qwest is gunning for more than $1.8 million, which includes punitive damages. However, McKillen claims Qwest is tripping and is not owed anything.
Guess we will see how this all is sorted out when they go to court.
Photos: Beyonce's IG