Cardi B Brings Late Night TV Shenanigans, Covers Billboard + Dave Chapelle Clowns Poor White Trump Supporters + Viola Davis' Police Brutality Series Will Include Sandra Bland
Dec 21 | by _YBF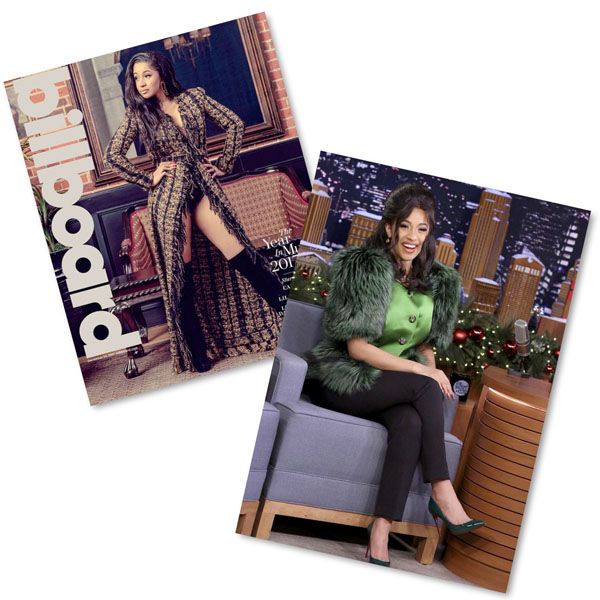 Cardi B lit up late night television with her...charm, Dave Chappelle gives poor white Trump supporters some truth serum, and Viola Davis readies her new docuseries that will explore police brutality. Deets inside…
This year's breakout star Cardi B made her way to "The Tonight Show Starring Jimmy Fallon." And the late night host could hardly contain himself laughing at the NYC raptress during the interview.
Jimmy fought back tears as the "Bodak Yellow" rapper -- clearly in the holiday spirit rocking a furry green Rubin Singer jacket, black pants, and a pair of green "bloody shoes" -- explained how she got her stage name:
"You know what, my sister name is Hennessy, so everybody used to call me Bacardi," she revealed. "Then it was my Instagram name, Bacardi, Bacardi B, but for some reason, my Instagram kept getting deleted, and you know what I think it was Bacardi [the alcohol company] that had something to do with it. So I just changed it to Cardi B."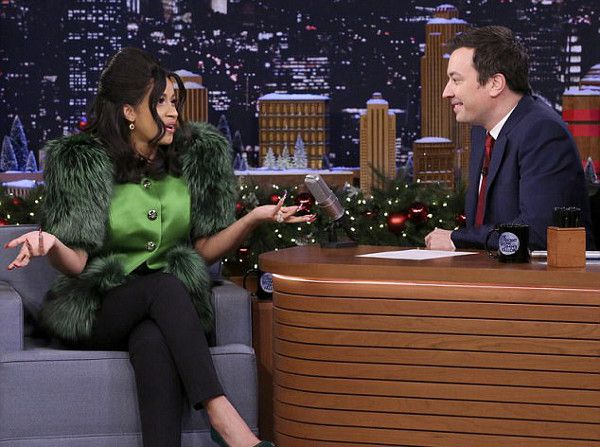 The former "Love & Hip Hop" star also dished on her surprise engagement by her fiancé Offset.
"He was always like, 'I'm going to marry you, I'm going to marry you.' And I would be like, 'It's the right thing to do.' I know he was going to give me a very expensive gift because he wasn't there for my birthday, but I thought he was going to give me like a watch or something. He just went out his way."
Cardi's animation had Jimmy dying laughing and it was super funny to watch. Check it:
After the show...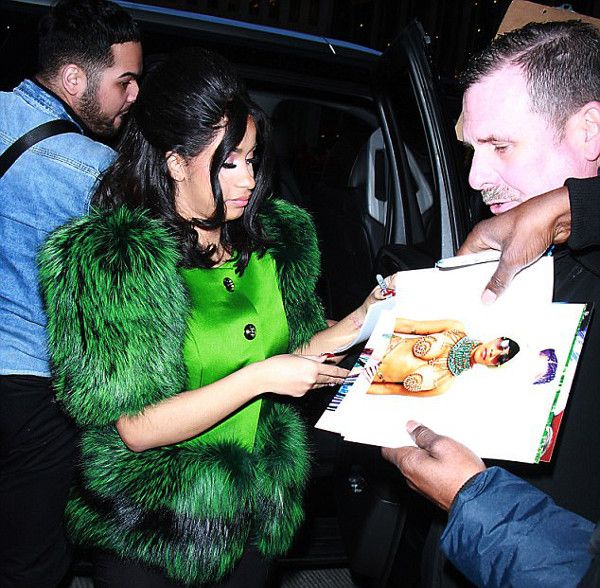 Cardi hit the streets where she was stopped to sign autographs for fans.
By the way, the Grammy nominated rapper has made music history again. She's the first female rapper to land her first three entries on the Billboard Hot 100 to the top 10. Congrats!
And be on the look out for her new single "Bartier Cardi," featuring 21 Savage, this Friday.
On the magazine front...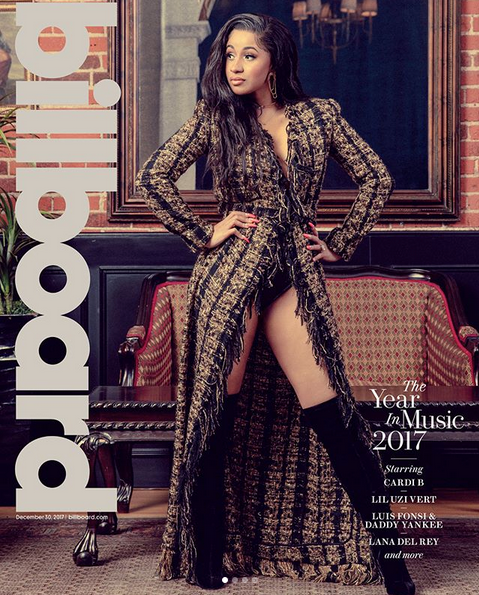 The "Motorsport" rapper lands one of four covers for Billboard's The Year In Music 2017 Issue. And rightfully so.
Billboard gives a quick recap of her glow up year:
It has been just over a month since her surprise hit, "Bodak Yellow (Money Moves)," gave up its three-week reign atop the Billboard Hot 100, and in that time she has turned 25; played the Barclays Center arena (twice) alongside rap's biggest stars; taken home five BET awards, including best new hip-hop artist and Hustler of the Year; killed a verse alongside Nicki Minaj on Migos' "MotorSport" (which cracked the top 10 on the Hot 100); and gotten engaged to Migos' Offset, who gave her a $550,000 ring with an enormous custom-cut raindrop diamond. (A few weeks after this interview, she'll also pick up two Grammy nods -- best rap performance and best rap song -- for "Bodak Yellow.")
Chick has had one HELL of a year and we wish her the best in 2018.
Peep her hot Billboard spread below: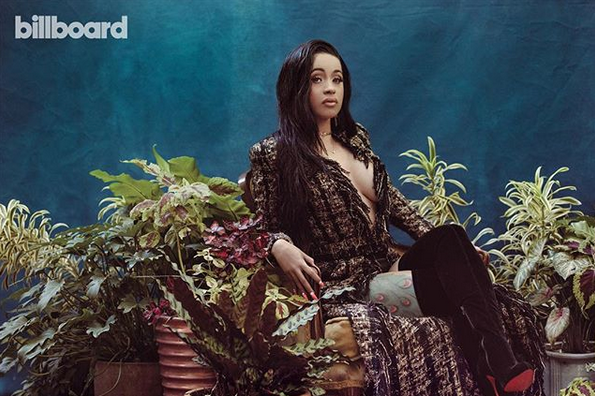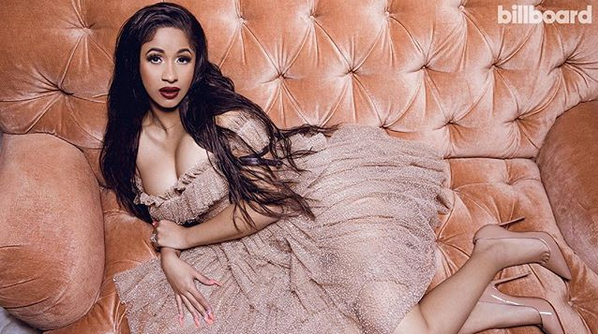 Ugh, we love her.
On the TV front...
Comedian Dave Chappelle has another comedy special coming to Netflix titled, "Equanimity." And this one appears to be just as funny as the last two.
In the new trailer for the show, the comedian serves up the funniest shade ever to poor white Trump supporters. And no lies were told. Get your laugh on above.
"Equanimity" hits will begin streaming on New Year's Eve via Netflix.
Coming to cable television...
Viola Davis and her husband Julius Tenon will soon be releaseing their new docuseries "Two Sides" on TV One.
According to Deadline, the four-part crime series will feature hour long episodes that explores the high-profile officer involved deaths of four black men and women, including Eric Garner (New York), Ezell Ford (California), John Crawford (Ohio), and Sandra Bland (Texas).
Each episode will feature interviews from family and friends of the slain victims where they tell their account of what happened, along with memories and recollections of their slain loved ones' lives. On the flip side, law enforcement experts and independent commentators will offer up their expertise and opinions on each case.
Viola, who's also narrating the series, and Julius are executive producing the project under their JuVee Productions, alongside Lemuel Plummer (L. Plummer Media).
"Two Sides continues TV One's mission to represent the issues and concerns of the importance to the Black community," says D'Angela Proctor, TV One Head of Original Programming and Production. "Inspired by courageous acts such as NBA Champions LeBron James and the Cleveland Cavaliers who donned 'I Can't Breathe' shirts in honor of Garner during pregame warm-ups, and the NFL's Colin Kaepernick who kneeled during the anthem prior to games for an entire season to raise awareness of police brutality, we wanted to utilize our platform to shine a light on this pressing issue. We're honored to work with Viola and Julius who have been active voices in the fight for equality to explore both sides of this dynamic equation, which continues to dominate social and political discourse in America."
"With Two Sides you'll hear how the incident transpired and how it affected change, or did not affect change. And, how the families are still being affected," said Davis and Tennon in a joint statement. "This is a way for us to humanize these victims and not make them just a statistic. We also have to look at the other side of the story – our law enforcement's point of view. Let's come together and have a conversation around these issues so that we can come up with real solutions that will lead to positive change."
"Two Sides" is scheduled to premiere Monday, January 22 at 10 PM ET on TV One. We'll definitely be tuning in.
Photos: Backgrid/Instar/Billboard/Getty