LiAngelo 'I Don't Know Why I Stole Those LV Shades' Ball Says UCLA Made Him Thank Trump After Scandal + Lakers Baller Lonzo Ball Trolls Nas
Dec 13 | by _YBF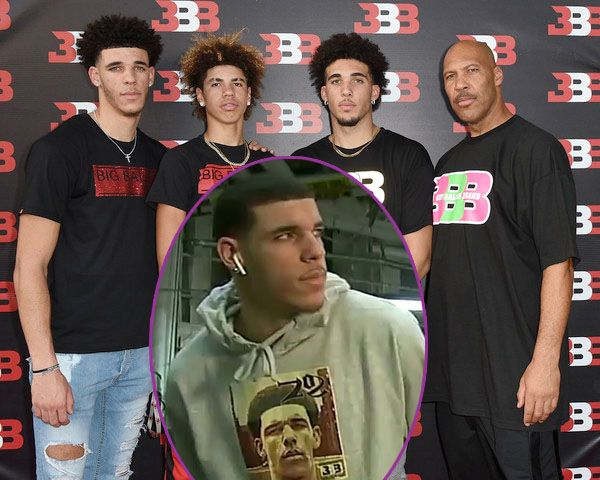 LiAngelo Ball reveals UCLA made him thank Donald Trump after he was brought back to the USA from China when he was caught stealing. Meanwhile, his big brother Lonzo Ball fired a shot at Nas and the rapper seemingly responded. Everything inside…
LiAngelo Ball is dishing a few deets about why he thanked Donald Trump during his press conference following the stealing scandal that went down in China.
The former UCLA basketball player, his father LaVar Ball and his younger brother LeMelo Ball stopped by Power 105's "The Breakfast Club" to chat it up about what's next for the Big Baller Brand.
Before we get into where the younger Ball brothers will be playing, the young athletes and their dad addressed that stealing situation. LiAngelo revealed UCLA put the pressure on him to thank No. 45 after he and two of his teammates were arrested for allegedly shoplifting from a Louis Vuitton store.
"He [Trump] tweeted about it before my speech so I had to add it in there right before I gave it," LiAngelo revealed. "My school wanted to hear it too. Before I went up there, it's like, 'You gotta thank him.' I just threw him in there real quick before I gave my speech."
LiAngelo said if the school hadn't asked him to add it in his speech, he wouldn't have.
"If they didn't tell me to do it, it wouldn't have been in there, to be honest," he said.
Well, there you have it. Check it at the 25:45 mark:
Following his return to the USA, UCLA suspended him and his other two teammates indefinitely. So, what does the Big Baller Brand honcho do? He gets them contracts to play overseas.
Both LiAngelo and LaMelo have ink contracts to play overseas with the Lithuanian basketball club Prienu Vytautas: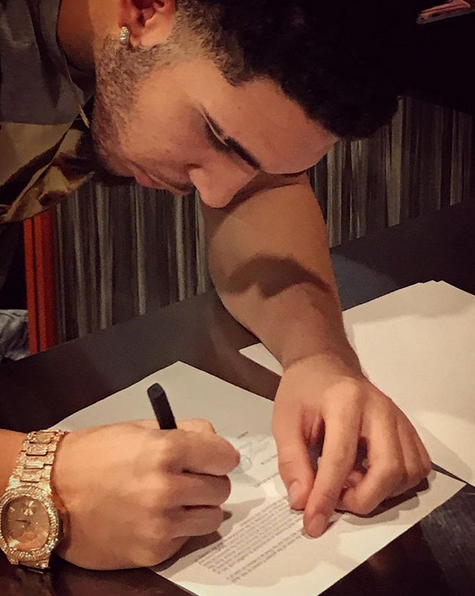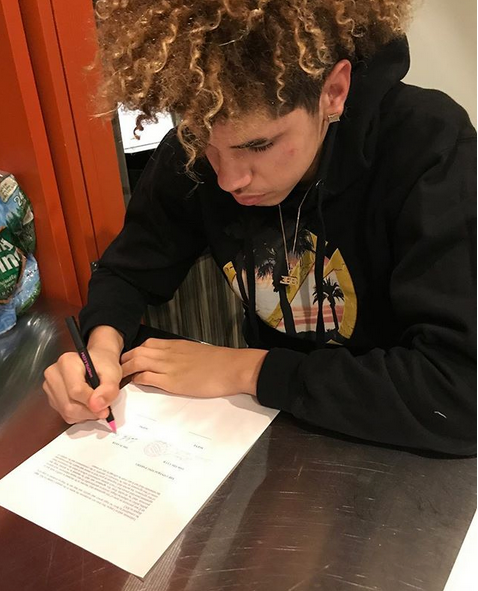 Must be nice. Interestingly, neither of them could REALLY articulae why they went this route when Charlamagne asked them about it. Like with every other question, they basically passed the mic to their dad.
Speaking of the Ball brothers...
Lakers player Lonzo Ball decided to fire another shot at rap icon Nas ahead of the Lakers going up against the NY Knicks yesterday (December 12th). The NBA rookie walked into Madison Square Garden rocking a sweatshirt with his face over Nas's classic album It Was Written.
Lonzo pulled this stunt after he previously the Queens Bridge rapper when he made the comment, "Don't nobody listen to Nas no more," on the Ball family's Facebook show "Ball in the Family." We'd like to note, Lonzo said REAL rap in his eyes equals Migos and Future.
Oh.
However, the Knicks ended up beating the Lakers, 113-109. So, Nas ended up having the last laugh. After the game, the NYC rapper posted:
Bloop!
By the way...
Lonzo's dad was there cheering him on alongside the Knicks' biggest "fan." Ha!
Photos: Angela Yee's IG/LiAngelo's IG/LaMelo's IG