SEAHAWKS VS. EVERYBODY! Players FIGHT On The Field & Jaguars Fan Almost Caught Some Hands From A Player + Cam Newton & Fam Serve Up Christmas Vibes
Dec 11 | by _YBF
The Seahawks vs. Jaguars game got SO heated punches were thrown and one player even tried to climb in the stands to fight a Jags fan. See everything that went down, plus the cute Christmas flicks from Cam Newton and his family inside…
Yesterday's game between the Seattle Seahawks and Jacksonville Jaguar had EVERYONE in their feelings.
Tensions were running HIGH, resulting in an all out brawl in the middle of the field between the NFL teams and one NFL player let his emotions get the best of him.
As the Jaguars tried to run out the clock, Seahawks defensive ends kept rushing the line, and that's when the brawls began breaking out. The refs rushed in, throwing flags and did their damnedest to break it up, but it took a while. There were punches thrown and everybody was getting a lick in.
Check it below:
Synchronized flag throwing pic.twitter.com/Jza4Ya4hnT

— Steve Noah (@Steve_OS) December 11, 2017
After the brawl was finally broken up, Seahawks' defensive lineman Quinton Jefferson was ejected (along with Sheldon Richardson) from the game. As Q made his way to the locker room, Jags fans began throwing soda and beer at him, which only set him off even further. Dude got so mad he tried to climb the wall into the stands to fight whoever threw the drinks. Luckily, Seahawks personnel were able to hold him back:
Here's the entire clip… pic.twitter.com/ny52DflJzW

— Steve Noah (@Steve_OS) December 11, 2017
After the Jags closed the game with a 30-24 victory, Quinton spoke with the media to explain why he went postal (via ESPN):
"Folks in the stands was throwing beer and throwing soda, whatever. I mean, I don't know what I'm supposed to do," said Jefferson, a second-year player. "I'm a human just like anybody else. I'm a man just like the other man in the stands. I'm not going to let somebody disrespect me, throw a beer on me.

"Just because I'm playing football, I'm still a human being. I'm still a man. I'm out there playing a game, and at the end of the day, it's a game, and I'm a man. I'm not going to let somebody disrespect me like that."

Asked if he felt it was right to attempt to go into the stands, Jefferson responded: "I don't know. Was it the right call for him to throw beer on me? I'm just wondering if it was the right call for him to throw a beer on me. Just saying."
Hmm…we see both sides. The fan throwing drinks at him was MAD disrespectful and as a human being we can see why he got so upset. On the flip side, he is at work and should try to remain as professional as possible. So, do you think he was justified for his outburst or nah?
On a sidenote, the Jags stadium DEF needs to up their security game.
In more positive football news...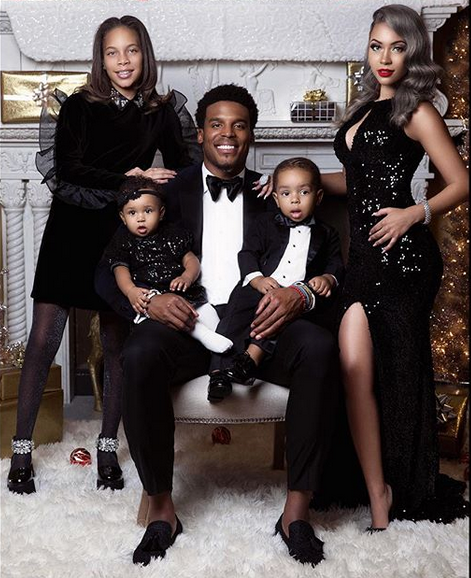 Christmas love!
Cam Newton, his fiancée Kia Proctor and their kids are serving up family Christmas vibes this holiday season. Kia recently shared a few Newton Family Christmas cards, featuring the Carolina Panthers quarterback, their two kids, Chosen and Sovereign-Dior, and her daughter from a previous relationship.
How cute!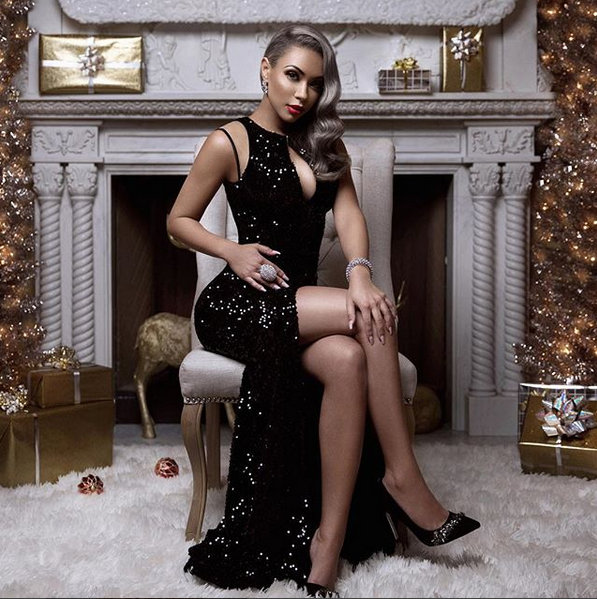 Adorbs.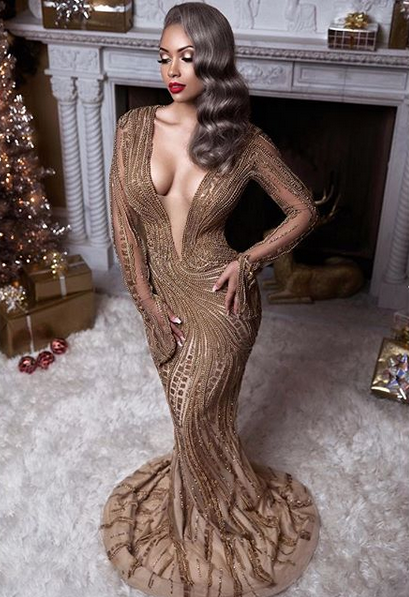 We see you Kia working this Vjollca Llapashtica gown.
Photos: @JeffDarlington/Kia's IG