Birthday Girl Nicki Minaj Links Up With Cardi B & Migos For 'Motosport' Video, Twitter Dubs Her Trap Rapunzel + Cardi Takes Over Jeremy Scott's Launch
Dec 08 | by Natasha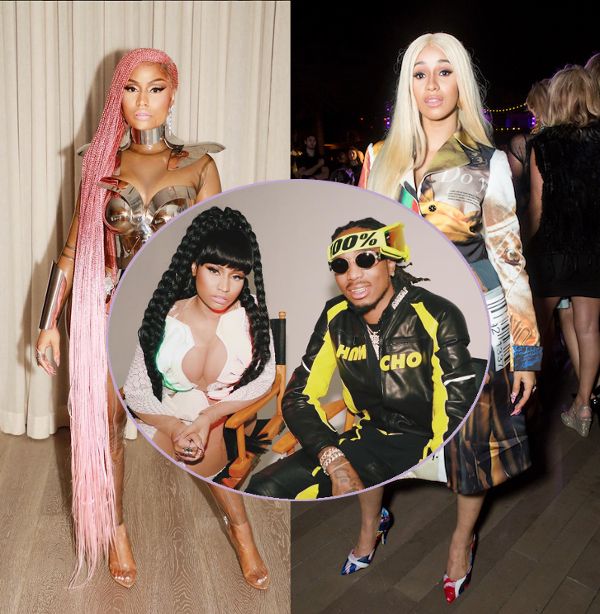 When Trap Rapunzel meets Trap Selena, you get that "Motorsport" video. We've got it inside, plus the hilarious reactions to Nicki Minaj's pink braids that drag on the floor and Cardi B taking over Jeremy Scott's fragrance launch....
Nicki Minaj served up pink microbraided inches, and we mean INCHES, thanks to famed hairstylist Kim Kimble and her style team led by Kendra Garvey, all for the new "Motorsport" vid.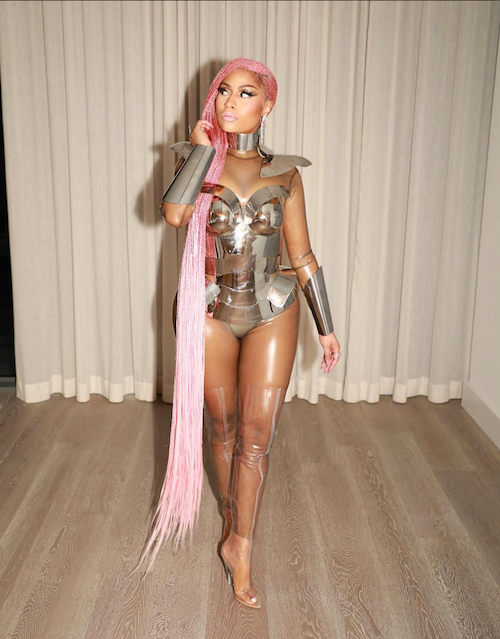 Kim revealed it took 36 hours to create the look, which we saw her original version of in blonde and a tad wee bit shorter on Beyoncé in Michelle Williams' "Jesus Say Yes" video. We saw a longer length version in the Lemonade epicness as well. This has GOT to be a wig, but the hair braiders haven't yet confirmed if it is.
Black Twitter & 'em couldn't handle all the fabness from Trap Rapunzel. As Nicki celebrates her 35th birthday today, she's getting meme'd all over the place, but in the best ways.
Y'all got Nicki trying to sell her Black Twitter card out here.
Y'all gonna sit there and get them nicki minaj braids when she got on a lace front

— Arie (@infamousindy) December 7, 2017
PSA to all these bitches . Please DO NOT , i repeat DO NOT try to get those pink braids cause Nicki Minaj got em. she go to professionals , your friend can't do that sis

— des (@cockydee_) December 7, 2017
Baby a lady out here charge 1000.00 for those Nicki Minaj lemonade braids

— Chocolatedrop (@da_minicooper) December 8, 2017
She not taking her foot off they necks . Them pink braids and that whole scene #MotorSportVideo @NICKIMINAJ pic.twitter.com/6Sh1hOsgk7

— NM4 (@iamgiannib) December 7, 2017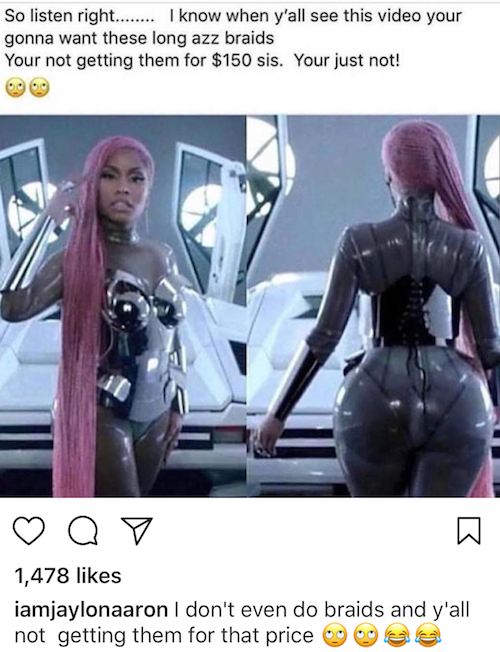 Ha!
Cardi B, her fiance Offset, Takeoff and Quavo are doing what they do in the video as well. Check it out below since it's now on VEVO. The track-of-the-winter appears on Migos' Culture II album:
Speaking of Cardi B, Trap Selena took her talents to Miami last night. She partied it up and performed for Moschino designer Jeremy Scott's fragrance launch during Art Basel.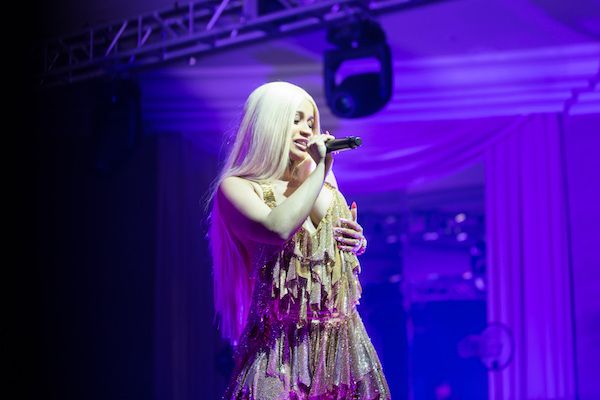 She rocked head to toe Moschino, of course.
We hear Cardi and VIPs sipped on Tanqueray No. TEN bottle service before a special performance by the Bronx babe which was exclusively livestreamed by TIDAL. She also brought out G-Eazy to surprise the crowd with their "No Limit" banger of a collabo. Chick is putting in WORK.
Photos: BFA/Nicki's Instagram