Ashanti Turns The Big Apple Into A Photoshoot After Heated Interview + K. Michelle Gets Real On 'Kim K' Track + En Vogue Drops New Single 'Rocket'
Dec 02 | by _YBF
Ashanti shows off in the streets of NYC after a heated interview on Complex's "Everyday Struggle." Meanwhile, K. Michelle and EV VOGUE have new music. Get it all inside…
It's a photoshoot when Ashanti, above leaving he AOL Build studio, steps foot in NYC.
After spending her Thanksgiving in Hawaii, the R&B singer, who has a new track with Ty Dolla $ign "Say Less," jetted to the Big Apple to chop it up with Complex's "Everyday Struggle" co-hosts Joe Budden, DJ Akademiks and Nadeska Alexis.
While Ashanti was in Hawaii, she was booked to perform, but the concert went left when fans began throwing money on stage. She stopped in the middle of her set and urged fans to STOP throwing money at her because she's NOT a stripper. "I'm not a f**king stripper!," she yelled at the audience.
Following the incident, Joe Budden and DJ Akademiks touched on the situation where they made some jokes Ashanti didn't ind funny. So, she came on the show to set the record straight.
"I had on a bodysuit with boots, which 90% of my peers wear, which we perform in," she explained. "We're there to do a show, so that's what you wear. Strippers are naked. My private areas weren't out."
The "Rain On Me" singer said she shouldn't have money thrown at her because she wasn't naked, nor was she dressed like one. She asked, "If I had a stethoscope on, am I a doctor? Do I want money thrown on me because I have on a bodysuit?"
Bloop!
Peep their exchange at the 18:45 mark:
The former First Lady of Murder Inc. also touched on her strained relationship with Murder Inc. honcho Irv Gotti and why they don't get along right now:
The 37-year-old singer also had to check Joe Budden after he tried to clown her about her attire:
Set them straight Shanti!
Despite a few hiccups in the interview, it ended in love:
After the interview, Shanti hit the streets of the Concrete Jungle to flex: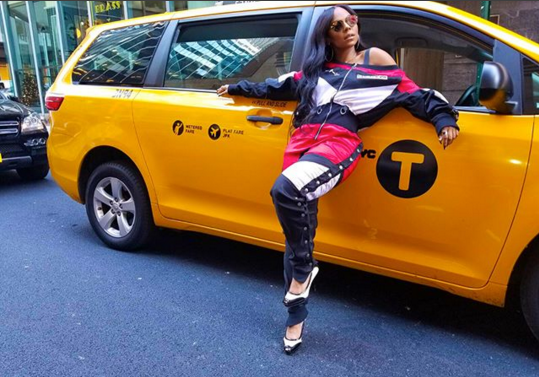 Fire!
Ashanti also stopped by MTV's "TRL" show to floss those abs she works so hard for in the gym: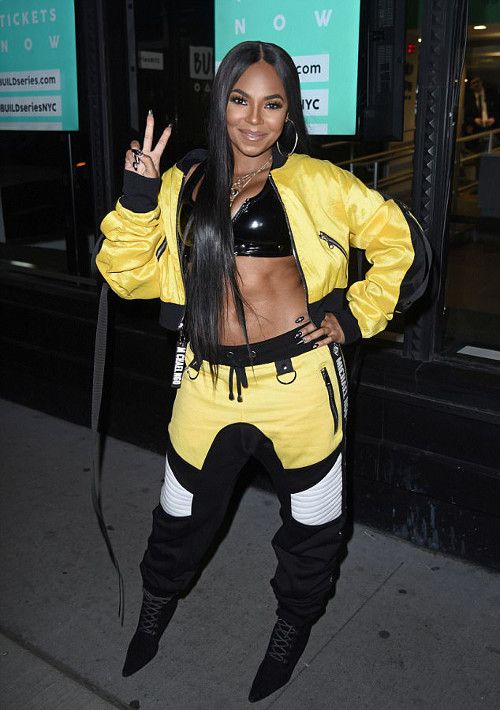 Chick looks amazing.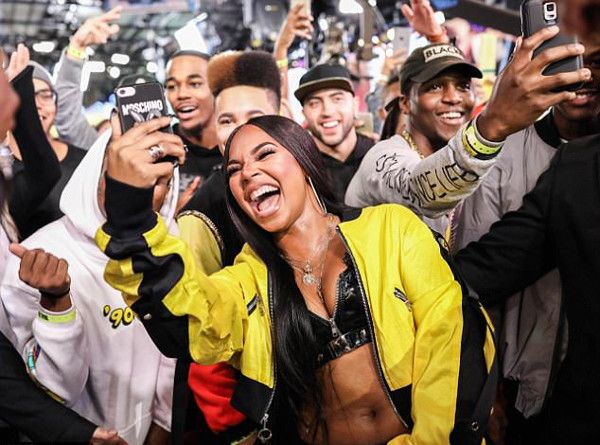 And she even had some fun snapping selfies with fans.
Ashanti, above leaving a meeting in Midtown, is currently on tour and she's set to hit the stage at the Aztec Theatre in San Antonio, TX tonight.
In new music....
UPDATE:
K. Michelle took to Twitter to explain the lyrics in her song "Kim K" (read from the bottom up):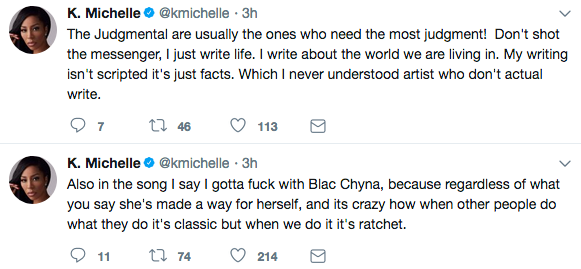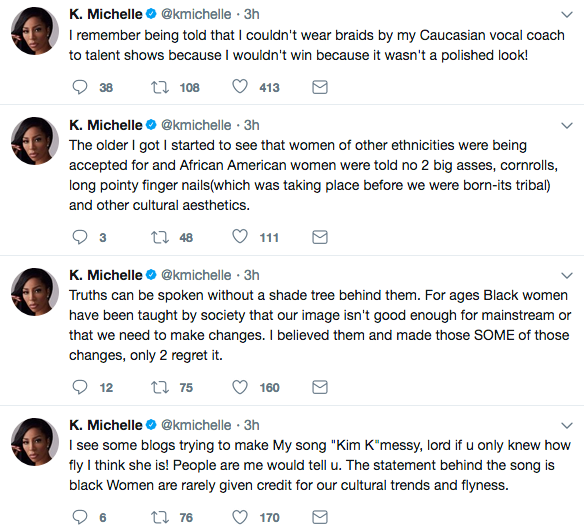 -------------------------------------------
R&B songbird K. Michelle is readying her next album, KIMBERLY: The People I Used To Know, set to drop December 8th.
On the track, K blasts black women for hating on her for doing the same ish the Kardashian-Jenner clan does. She also talked about her failed relationship with Hollywood actor Idris Elba and how black women would rather see him with a white woman verses a black woman.
She sings:
I get to be in my feelings

Talkin' that talk, I'm bout to walk in my thoughts, listen!

Wuzzup with all you black women?

I date a black man named Idris

You say "[I'm] ghetto, he trippin,"

You'd rather him with white women

How you don't like me, no

When you just like me, oh!

I know it must hurt

He fuck with me and he don't want her!

That's why I should be the bridge for you b*tches

That'll help you to get over these n*ggas!
Hmm…she does have a point. Take a listen to the track above and tell us our thoughts in the comments.
In more music news...
Another 90s girl group has reunited and they're gearing up to release a new album.
Iconic female group En Vogue just released their new single, "Rocket", a cut from their forthcoming Electric Café album. The ladies effortlessly serenade about a love that has them higher than they've ever been before. "Rocket" was written by Ne-Yo and produced by Curtis 'Sauce' Wilson.
"This summer we had the pleasure of touring with Ne-Yo in Australia and he's truly a singer's songwriter! We're honored to have the opportunity to put our signature sound on a song from one of the most talented artists and composers today," En Vogue said about recording the track.
Their new album will feature a guest appearances by Snoop Dogg ("Have A Seat"), with production from Raphael Saadiq, Dem Jointz, and longtime En Vogue producers Denzil Foster and Thomas McElroy.
Electric Cafe is set for a March 30, 2018. Take a listen to "Rocket" above.
Photos: Getty/Splash/Pacific Coast News