Is Cardi B The Reason For Nicki Minaj & Atlantic Records Beef? + Adrienne Bailon Admits She Can't Tell Time
Oct 23 | by _YBF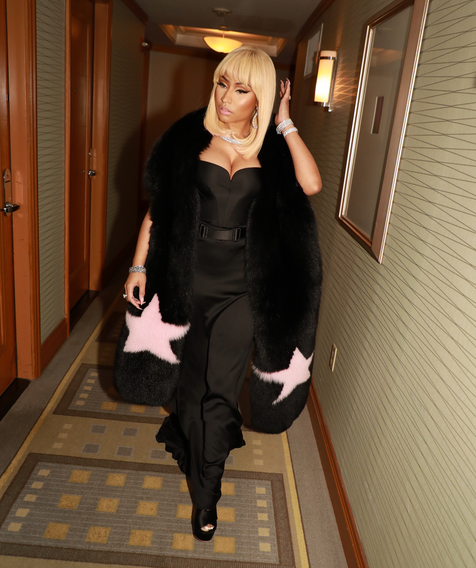 So there's something going on between Nicki Minaj and Atlantic Records. Even Nicki said so without saying so. Find out what we mean, plus, see Adrienne Bailon admit she can't tell time inside…
Well, well, well.
Now that Nicki Minaj has some competition since Cardi B glowed up on the music scene, the rumor mill is in overdrive. Rumor has it that Atlantic Records are blocking the Young Money rapper's music with other artists.
The NYC rapper liked Lil Uzi Vert's "The Way Life Goes," so she decided to drop some bars for a remix. The thing is, it hasn't been released. And apparently, it has nothing to do with Nicki or Uzi.
A fan asked Nicki about the track on Twitter and she responded saying the track been complete, but "someone somewhere" is holding it up from being released. Peep the tweet:
So here's the tea.
Cardi B is signed to Atlantic Records and it's alleged the label doesn't want to release any Nicki material to hurt her sales. We're not sure how true this is, but it makes sense.
Since there seems to be a "hold" on Nicki collaborations at Atlantic, that means she won't be able to release any material with rappers like Gucci Mane, Kodak Black, Lil Boosie, Wale, Ty Dolla Sign, B.o.B. and more. That also means we won't be seeing a Nicki Minaj/Cardi B collaboration track anytime soon.
What do y'all think?
In other news...
Adrienne Bailon is 33-years-old and still can't time. Seriously. She said so herself.
During a recent "Girl Chat" segment on "The Real," the daytime co-host explained how she never learned how to tell time on the watches she likes to wear.
"So I wear this watch here, but I can't tell time. You know people be like 'Oh, its 4:73' [laughs]. Wait, 4:45. You know how girls look real cute and be like 'Oh, babe I have to pick the kids up in 10 minutes,' I don't know what I just looked at. I don't know what this says."
Chile…
Peep the clip above.
By the way, Adrienne celebrates her 34th birthday tomorrow.
Photo: Nicki's IG