Jay Z, The Obamas, Zendaya, Tamron Hall, Viola Davis & Ryan Coogler Have PLENTY To Say About Weinstein's Alleged Dirty Dog Ways
Oct 11 | by Natasha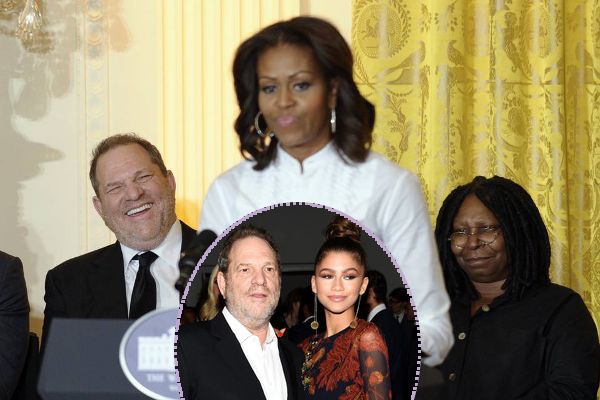 The tragic downward spiral of one of Hollywood's most famous producers has the YBF folks speaking up about his sexism, sexual assault allegations and the all around peak creep-dom of Harvey Weinstein. Find out the latest inside....
After The Obamas spoke up earlier this week when Harvey Weinstein's sexual assault history came to light - and we mean brought ALL the way to light - more YBF celebs are making it known how they feel about the disastrous human being.
The former First Couple, who took large amounts of money from Harvey during both Presidential campaigns, put out a joint statement about the matter. We're sure them having their oldest daughter, Malia Obama, intern for him this past summer hit even closer to home for them.
The statement reads:
"Michelle and I have been disgusted by the recent reports about Harvey Weinstein," the statement said. "Any man who demeans and degrades women in such fashion needs to be condemned and held accountable, regardless of wealth or status. We should celebrate the courage of women who have come forward to tell these painful stories. And we all need to build a culture -- including by empowering our girls and teaching our boys decency and respect -- so we can make such behavior less prevalent in the future."
Of course, the left feels like it's just damage control. Many believe everybody in Hollywood and the inner circle knew of Harvey's mistreatment of women. And took his money anyway. But plenty of celebs, like Meryl Streep, said they had no idea he was using his position of power to force women to have sex with him in exchange for movie roles and more.
Zendaya, who can credit Harvey for much her acting career so far, gave a not-so-Zendaya vague statement earlier today saying:
As a young woman in this industry, I am deeply grateful to all the courageous women coming forward and speaking their truth...

— Zendaya (@Zendaya) October 11, 2017
...and I truly thank you for making the first huge steps towards assuring that this industry be safer for young actresses like myself.

— Zendaya (@Zendaya) October 11, 2017
Hmmm. Usually she's extra vocal about matters of social injustices, and spares no expense in dragging folks. It's possible many are still slightly worried about how their careers will be affected if they spoke against the man holding much of the purse strings.
Ryan Coogler, though, didn't hold back. The Creed director, whose breakout film Fruitvale Station was helmed under TWC, said in a powerful statement:
I am disturbed and saddened at the news that several women have been victimized by a person I had come to know through the purchase of my first feature film. While I had no further business dealings with Harvey Weinstein, and no knowledge of this predatory behavior, my career did benefit from this brief involvement. Because of that, I feel a responsibility to speak up on this issue.

I love working as a storyteller. But I work in an industry that too many times has proven to not be a safe space for women. I make it a priority to ensure that there is gender equity and an inclusive work environment on every project I am involved with. However, just minding our business sometimes isn't enough. It goes without saying, but I will state it now: Sexual harassment is a human rights violation, sexual assault is a human rights violation, rape is a human rights violation.

The entertainment industry, like many others, has a historic imbalance of power among gender that allows these violations to run rampant. As men we sit in positions of privilege. It is our responsibility to leverage our position, and be allies to the women in our industry. We need to do everything we can to make sure violations like these don't continue to happen. The first step is to listen. Salute to the brave women who came forward. I could never imagine how difficult that must be.
Emmy winner Viola Davis chimed in saying:
"Our bodies are not the 'spoils of war'… a trophy to be collected to fuel your ego," she went on. "It's OURS!!! It doesn't belong to you!! And when you take it without permission, it DESTROYS…… like a virus!!!" "To the predators.. Weinstein, the stranger, the relative, the boyfriend…. I say to you, 'You can choose your sin but you don't get to choose the consequences.' To the victims…. I see you. I believe you… and I'm listening," she concluded.
And Tamron Hall says she confronted Harvey the day after the NY Times story about his behavior broke. She does, afterall, have a show pending with the Weinstein Company.
"It's a woman's worst nightmare to be in a situation where you believe someone more powerful has control over your life," Hall said. "I immediately thought about the women who have suffered in silence and were paralyzed by fear; fear that I've seen with domestic violence survivors; fear that I've seen when I interviewed women who were raped on their college campuses."
She says she spoke to him around 5am the morning after the story broke, and even though he's been fired from the company he founded, that's not enough to make her feel comfortable. As for her show - it's still happening as of now.
But it's Jay-Z who perhaps has the most powerful statement at all, without even having to open his mouth. He's reportedly looking to buy Harvey's stake in The Weinstein Company since the company has already ousted him. Savage!
TMZ claims sources connected to Hov say he "wants his relationship with the company to continue and grow." Notice he didn't mention a relationship with Harvey himself. Other investors would join JAY-Z in the purchase of Harvey Weinstein's 23% stake in the company.
The deal would make sense. Both Jay and his wife Beyonce have worked numerous times with Harvey over the years. Bey with her documentaries and Jay with his "Time: The Kalief Browder Story" both being produced under Harvey's (now former) house.
Jay also has more docs lined up under TWC, so instead of putting those at risk, he is snatching the reins from Harvey and anyone else who may have an issue with his projects continuing.
Can't be homies anymore after you sexually assault women. Smart move on Jay's end. As always.
As for Harvey, the showbusiness world responded swiftly and majorly. He's been ousted from the company he founded, his wife Georgina Chapman, the founder of Marchesa, has filed for divorce, and chaos is going down at his daughter's house in Hollywood today.
While some reports said he was on his way to a "sex rehab" facility, police reports show there was a domestic situation getting out of hand at said daughter's house, and Harvey was spotted fleeing. He was also spotted attempting to catch a ride with strangers on the street in order to get the hell out of there.
His daughter claims he's now suicidal. Harvey told Page Six yesterday about his wife leaving him:
I fully support her decision. I didn't stand in Georgina's way when we discussed a separation, I encouraged her to do what was in her heart. I know she has to do what is best for the children, for herself and her business, she employs 130 people. I don't want her or my children to be hurt any more than they already have. I truly love Georgina, and I hope one day we can reconcile, although right now I don't know if that could possibly happen."
Oh how the mighty fall....
Photos: Getty/CNN