Eminem BODIED Donald Trump In Hip Hop Awards Cypher, And The Internet Is Losing It
Oct 11 | by Natasha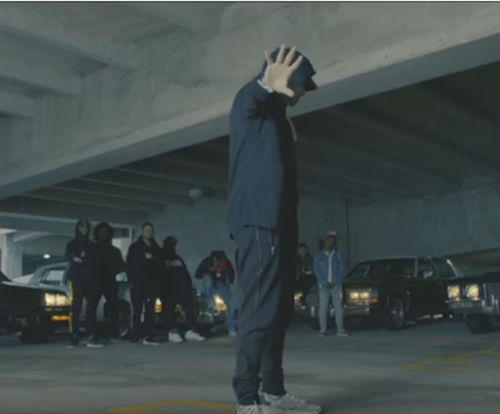 Eminem made a rare appearance last night, all for Donald J. Trump. Get into the ether he just fired off in a freestyle cypher without even leaving his current hometown of Detroit....
Marshall Mathers doesn't make appearances for just anybody. But when one needs to get their ass handed to them with the most fire bars of 2017, we call in the reserves.
Eminem was in rare form when he busted out "The Storm" freestyle cypher for the BET Hip Hop Awards that aired last night. He served up the realness about our reality star-in-chief, and it was one of the books.
He saluted Colin Kaepernick, alluded to this war Trump's about to get us in, questioned who's paying for #45's trips, told all of his fans supporting Trump a proper "F** You", and threw in an Obama reference for good measure. Check his 4.5 minutes of solo ether below:
Finish himmmm!
The internet went crazy as hell. Lebron James, Colin and more had the best reactions:
Racism is the only thing he's Fantastic 4(fantastic for), cause that's how he gets his rock off, he's orange. Sheesh @Eminem!!#United pic.twitter.com/wcL28BCWpy

— LeBron James (@KingJames) October 11, 2017
I appreciate you @Eminem pic.twitter.com/nwavBwsOkQ

— Colin Kaepernick (@Kaepernick7) October 11, 2017
Protect Eminem at all cost

— T-Pain (@TPAIN) October 11, 2017
Whoa. Rap God. @Eminem thank you. Potentttt

— J. Cole (@JColeNC) October 11, 2017
Several tweets from @realDonaldTrump this morning but none of them directed to @Eminem. Yet he was quick to call out Jemele Hill. Huh. pic.twitter.com/Cd9ql1X1Qx

— April (@ReignOfApril) October 11, 2017
The best political writing of 2017: @Eminem bodies @realDonaldTrump Albeit NSFW (Not Suitable For...Witnesses) https://t.co/yS2Y72n8WS

— Keith Olbermann (@KeithOlbermann) October 11, 2017
Yo eminem lays low then all the sudden BAM reminds everyone why he's a living legend. Every time… https://t.co/QSWqPZLpF7

— Gary Owen (@garyowencomedy) October 11, 2017
Were you feelin' it?