Odell Beckham Jr. Is OUT For The Season After Fractured Ankle + 3 Other Giants Land On Injury List & It's A Mess
Oct 09 | by _YBF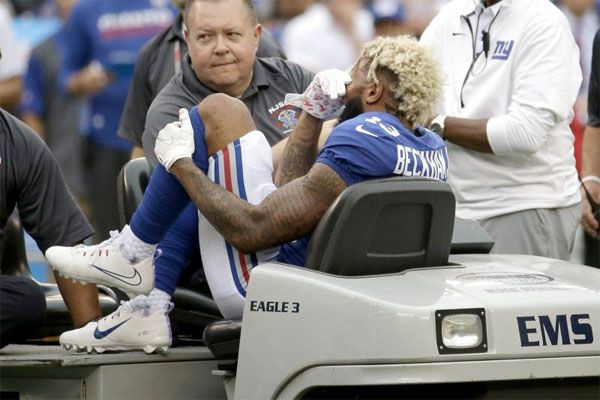 Odell Beckham Jr. is OUT for the rest of the season after 3 other Giants wide receivers have already made the injury list. And the season isn't look great with a 0-5 record. Deets inside…
It was a sad day for Odell Beckham Jr. yesterday as he injured his ankle for the 2nd time! And who put a spell over the whole Giants organization?
It was 4 minutes left in the fourth quarter game against the L.A. Chargers, when he landed awkwardly on his ankle trying to make a catch. It's kind of hard to watch, so brace yourselves:
whatever you do, don't look at Odell Beckham Jr's left ankle. pic.twitter.com/nDiU76PDRv

— Rob Lopez (@r0bato) October 8, 2017
Ouch!
OBJ was catered off the field by Giants personnel as tears streamed down his face. He'll undergo surgery to repair his fractured ankle, but he will NOT return for the remainer of the season, confirmed by head coach Ben McAdoo.
The Chargers ended up beating the Giants, 27-22, making the Giants Week 5 record, 0-5. Damn.
Oh, and it gets worse for the Giants.
Not only did the Giants lose their superstar wide receiver, 3 other wide receivers are on the injury list, including Brandon Marshall, Sterling Shepard (model Chanel Iman's boyfriend), and Dwayne Harris. Most of them were injued just in last night's game. Sheesh.

The Giants are going to have to pick up some wide receivers ASAP!
And for kicks:
"Undisputed" co-host Shannon Sharpe is still sipping on that "yak" and smoking his Black And Milds to celebrate Sunday football...and teh Cowboys losing. Ha!
Photo: Getty