Leah Remini Spills The Beans – 'Jada Pinkett Smith Is A Devoted Scientologist And Played Hide & Seek With Tom Cruise'
Sep 18 | by _YBF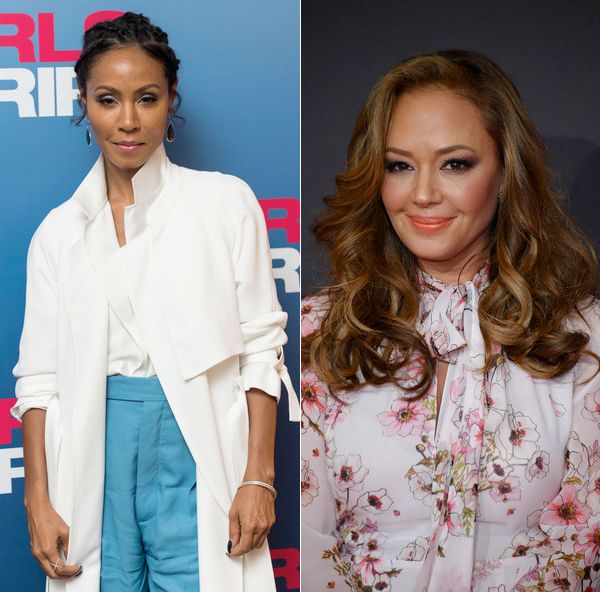 Leah Remini is still spilling tea, confirming that Jada Pinkett Smith is a devoted Scientologist and the odd things she did with Tom Cruise. Oh? Deets inside…
Leah Remini hasn't been shy about exposing what goes on behind-the-scenes of Scientology. She exposed it all in her tell-all memoir, Troublemaker and continues the spillage on her Emmy winning (and mind-blowing) show "Scientology and the Aftermath."
If you didn't already know, the "religion" is based on the seeking of self-knowledge and spiritual fulfillment through graded courses of study and training, founded by science fiction writer L. Ron Hubbard. These courses of study will run you millions of dollars in order for you to reach the highest level. And, you guessed it, folks never actually reach it.
Now, the Hollywood actress is spilling more tea about Scientology and she's bringing fellow Hollywood actress Jada Pinkett Smith in the mix.
During an interview with The Daily Beast, Leah revealed Jada is a Scientologist and has been one for a long time.
This little nugget is something many of us have known for a long time. Will Smith even alluded to their Scientologist beliefs in interviews years ago. But to STILL be in it after the "church" has been exposed for their allegedly abusive and fraudulent ways, is interesting.
"I know Jada's in. I know Jada's in. She's been in Scientology a long time," she recalled.
In her book, Leah talked about a time when she was at actor Tom Cruise's house and he wanted to play "Hide And Seek" with a group of adults…literally. The "King of Queens" star said there were three Scientologists there that night which included her, Tom Cruise and Jada Pinkett Smith.
Despite popular belief, though, Leah said Jada's husband Will Smith doesn't seem to be apart of the religion.
"I never saw Will [Smith] there, but I saw Jada at the Celebrity Centre. They opened up a Scientology school, and have since closed it. But Jada, I had seen her at the Scientology Celebrity Centre all the time."
Interesting. Should she be talking about other people's religious beliefs though? Especially, if that person hasn't spoken all that openly about it themselves.
The Girls Trip actress has yet to confirm these claims.
Photos: Getty