Pregnant Serena Williams – 'I'm Ready For Anything' + You MUST Hear LaDainian Tomlinson's Powerful HOF Speech About Unity
Aug 08 | by _YBF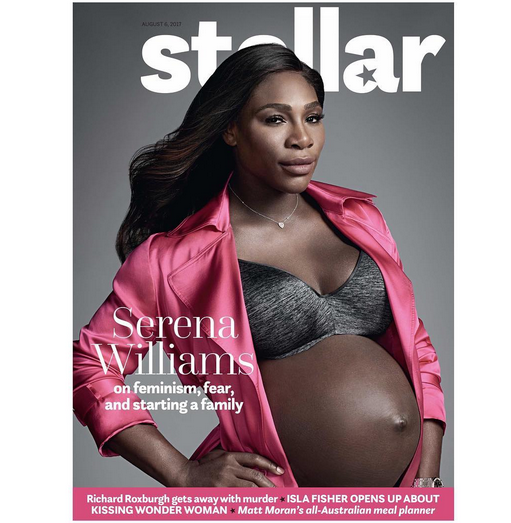 Leave it to Serena Williams and her baby bump to slay another magazine cover. Find out what the tennis star said about giving birth, plus hear LaDainian Tomlinson's powerful speech about unity as he was inducted into the Pro Football Hall Of Fame inside…
Another one!
First, Serena Williams wowed us with her Vanity Fair cover. And now she's back at it again.
The pregnant tennis star and her growing baby bump grace the cover of STELLAR magazine's newest print-only issue. And Baby Ohanian is stealing all of his/her mother's shine.
The soon-to-be first-time mom showed off her bare belly, rocking a Berlei bra topped with a pink Michael Lo Sordo trench coat. Makes sense. She IS the ambassador for the Australian bra brand. By the way, the shoot is part of the "Do It For Yourself" Berlei campaign.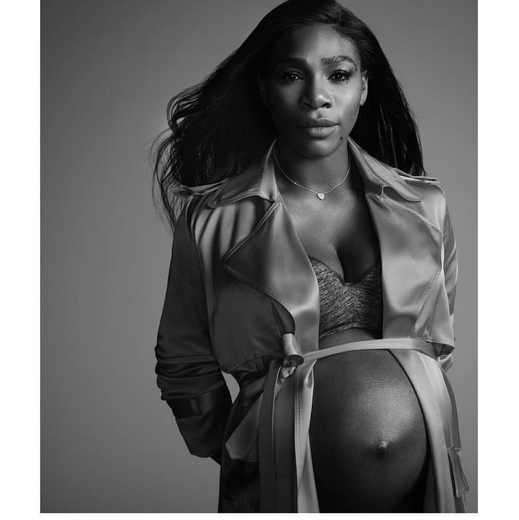 Inside, the 35-year-old opened up about her biggest fear as she inches closer and closer to her due date.
"I don't think watching birthing videos helps," 'Rena told the magazine. "I actually think it makes it worse. Having a baby, nothing is guaranteed."
Despite her having some fear about giving birth, she said this experience has given her the sense that she can do anything.
"That's the scariest thing. [But] I think [giving birth] will give me more strength, if that's possible, and a lot more confidence. I feel like I will be ready for anything."
Aww! I wish her nothing but the best!
In other sports news...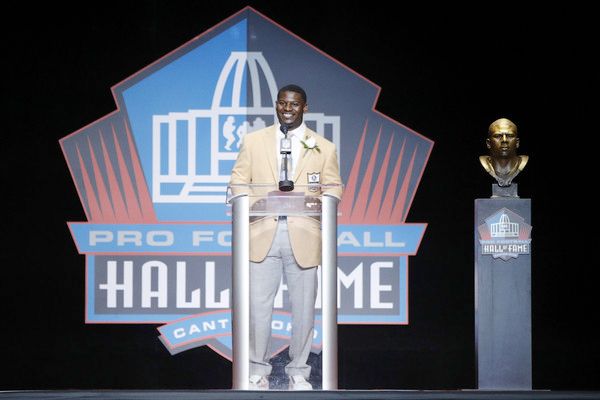 With Colin Kaepernick being black balled from the NFL, one former player eloqunetly addressed what's happening.
Former San Diego (now Los Angeles) Chargers baller LaDainian Tomlinson was inducted into the NFL Hall of Fame over the weekend and his acceptance speech has everyone talking.
L.T., who holds the record for most touchdowns in a single NFL season, wrapped up a 26-minute speech that touched on unifying our country. He shared how his great-great-great-great grandfather was brought here against his will and how the last name that was given to him helped bring two races together as one.
"My name began with the man who owned my great-great-great-great grandfather," he said. "Now, it's proudly carried by me, my children, my extended family. People stop me on the street because they know me as L.T. the football player," he said.

"But after football, people have begun to recognize me as LaDainian Tomlinson, not simply for what I did as a football player, but for who I am as a man. The family legacy that began in such a cruel way has given birth to successful, caring Tomlinsons. I firmly believe that God chose me to bring two races together under one last name: Tomlinson."
Not everyone was on board with this kumbaya school of thought, but we get where he was going with this.
L.T., who is now an analyst on the NFL Network, talked about how we should start working together for "Team America."
"All races, religions and creeds, living, playing, competing side by side. When you're a part of a team, you understand your teammates, their strengths and weakness, and work together toward the same goal, to win a championship. In this context, I wish we become Team America," he said.

"In sports, we're evaluated on our desire, ability and given our chance to compete. America is the land of opportunity. Let's not slam the door on those who may look or sound different than us. Rather, let's open it wide for those for those who believe in themselves that anything is possible and are willing to compete and take whatever risk necessary to work hard, to succeed."

"On America's team, let's not choose to be against one another. Let's choose to be for one another. My great-great-great-great grandfather had no choice. We have one."
Check out his full speech (at the 26:30 mark) below:
Photos: @Stellar's IG/Berlei's IG/@michaellosordo/Getty