JAY Z's '4:44' Sets The Internet On FIRE! Responds To Beyonce Cheating Scandal + 6 Shocking Things We Learned
Jun 30 | by _YBF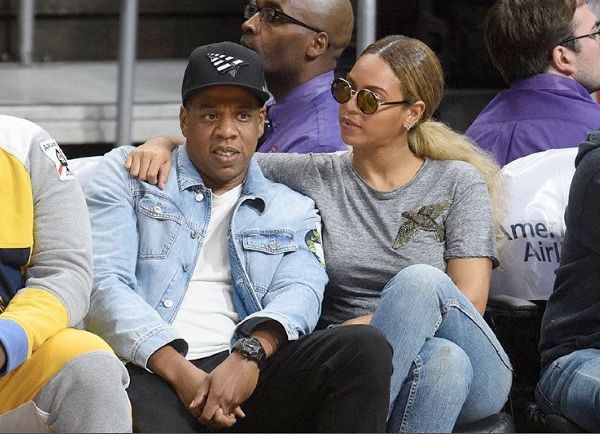 Jay Z dropped his 13th album at midnight and EVERYONE is dissecting and speculating over the lyrics. It's many things and we've broken down what he said about (seemingly) admitting to cheating on his wife Beyonce and plenty more shocking things we learned. Get it all inside…
Jay Z has the Internet on fire this morning after dropping his 13th studio album, 4:44, at midnight.
Now, everyone is talking about the LP, serving up their own interpretations of the lyrics Hov put into his songs. If you take his words as real life stories, he indeed cheated on his wife -- multiple times -- even after baby Blue Ivy was born. And it took for him almost losing her for him to smarten all the way up.
1. The title track, "4:44," is likely the most talked about track. The reason? It's seemingly his response to his wife Beyonce's LEMONADE album. At least that's what he has everyone believing.
On the track, Hov appears to come clean about his infidelity and it's essentially a 4-minute and 44-second apology to his wife.
He rapped:
Look, I apologize, often womanize

Took for my child to be born

See through a woman's eyes

Took for these natural twins to believe in miracles

Took me too long for this song…

Like the men before me, I cut off my nose to spite my face

I never wanted another woman to know

Something about me that you didn't know

I promised I cried I couldn't hold

I suck at love, I think I need a do-over

I will be emotionally available if I invited you over

I stew over what if you over my sh-t?…

And if my children knew, I don't even know what I would do

If they ain't look at me the same

I would prolly die with all the shame

You did what with who?

What good is a ménage à trois when you have a soulmate?

You risked that for Blue?
Damn Hov.
Here are 5 more shocking things we learned from 4:44:
2. The Hip Hop mogul also had some words for Kanye West.
We all remember when Ye went on a rant aimed at Mr. & Mrs. Carter where he spilled hurt tea about business deals, Blue Ivy and North West never playing together and how the Carters never came to visit after his wife's Paris robbery. He addressed Ye's antics on the first track of his new album, "Kill Jay Z" rapping:
You walkin' around like you invincible

You dropped outta school, you lost your principles

I know people backstab you, I feel bad too

But this "f-ck everybody" attitude ain't natural

But you ain't the same, this ain't KumbaYe

But you got hurt because you did cool by Ye

You gave him 20 million without blinkin'

He gave you 20 minutes on stage, f-ck was he thinkin'?

"F-ck wrong with everybody?" is what you sayin'

But if everybody's crazy, you're the one that's insane

Crazy how life works, you got a knot in your chest

Imagine how a knife hurts

2. On "Kill Jay Z" he also addressed that elevator fight that went down with Solange.

You egged Solange on

Knowin' all along, all you had to say you was wrong
Yikes. With Ye currently working on a new album, we wonder if he'll respond on a track.
3. On that same track, the NYC rapper opened up about how Bey was on the verge of leaving him, comparing their situation to Eric Benet and Halle Berry's uncoupling.
You almost went Eric Benét

Let the baddest girl in the world get away

I don't even know what else to say

Nigga, never go Eric Benét

I don't even know what you woulda done

In the future, other niggas playin' football with your son
Either Eric Benet was up skimming through the tracks at midnight, or someone tipped him off about the lyrics because he responded to Hov on Twitter: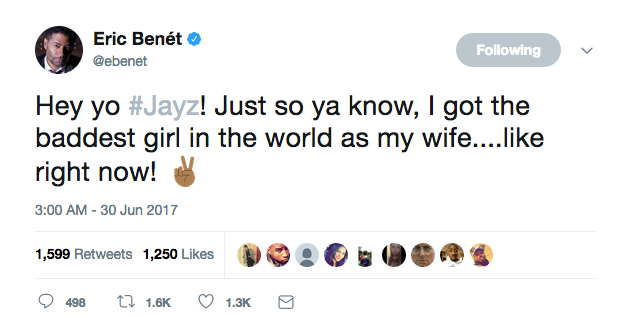 4. On the track "Smile," Jay opened up about his mom's sexuality where he revealed his mother, Gloria Carter, is a lesbian.
Mama had four kids, but she's a lesbian

Had to pretend so long that she's a thespian

Had to hide in the closet, so she medicate

Society shame and the pain was too much to take

Cried tears of joy when you fell in love

Don't matter to me if it's a him or her

I just wanna see you smile through all the hate

Marie Antoinette, baby, let 'em eat cake.
5. The Brooklyn bred rapper also touched on the drama surrounding Roc Nation and the estate of the late musical icon Prince. You'll recall, The Purple One pulled all of his music from other streaming services except TIDAL. After his death Prince's estate sued Roc Nation for copyright infringement of TIDAL's streaming rights.
On "Caught Their Eyes," Hov responded directly to L. Londell McMillan, the estate's special music industry adviser.
I sat down with Prince, eye to eye

He told me his wishes before he died

Now, Londell McMillan, he must be color blind

They only see green from them purple eyes

They eyes hide, they eyes high

My eyes wide shut to all the lies

These industry n-ggas, they always been fishy

But ain't no Biggie, no lazy eye, huh

This guy had "Slave" on his face

You think he wanted the masters with his masters?

You greedy bastards sold tickets to walk through his house

I'm surprised you ain't auction off the casket
Damn! Tell' em why you mad!
6. We also noticed there was online chatter about Jay Z firing a shot at the Kardashian Klan, but apparently that's fake news.
The line, "My wife a queen not a Kardashian" has been making rounds on social media with fans gagging at the fact he called out the Kardashians on the "4:44" track. But, it's not true. If you listen to the track, he never makes mention of the Kardashians.
4:44 was released via TIDAL at midnight and Sprint users were gifted a special 6-month free trial to TIDAL to rock out to the new musical offering. If you don't have Sprint or TIDAL, there's another way you can listen to the LP.
iHeartMedia and Roc Nation teamed up to world premiere an exclusive one-of-a-kind historic radio launch of JAY-Z's album, 4:44. Beginning today at 12:01 a.m. ET June 30th, iHeartMedia, in conjunction with TIDAL X Sprint, will world premiere the full album with an exclusive 35-minute Album. The album will continue to play across iHeartMedia's Urban and Rhythm formats until 12:01 a.m. ET July 1, featuring never-before-heard audio from JAY-Z about the album.
Below is the full track listing and snippets of each track:
So, what are your thoughts on Jay Z's very candid 4:44 LP?
Photos: FameFlynet/TIDAL