TV FAB: The Wopsters Are Getting A $1M Wedding + Ice Cube To Face Off With Bill Maher + 'Raven's Home' First look!
Jun 07 | by Natasha
That wedding special The Wopsters landed on BET is about to get them MAJOR coin. Find out how much Gucci Mane & Keyshia are making, plus Ice Cube vs. Bill Maher and a clip from Raven Symone's upcoming "Raven's Home" inside...
When Gucci Mane & Keyshia Ka'oir said they're going to have one of the biggest weddings ever, they meant it. Word has it their upcoming nuptials will cost $1 Million!
Reports state that BET is footing the bill for the million dollar wedding that will be aired during the couple's upcoming reality series, and they beat out VH1 with their offer. Not only that, but the network is paying Gucci $400K and Keyshia $250K for their services.
Gucci and Keyshia made the big announcement earlier this week that they nabbed a BET reality series that leads up to their wedding day. The wedding will go down in Miami in front of 200 guests. This should be interesting.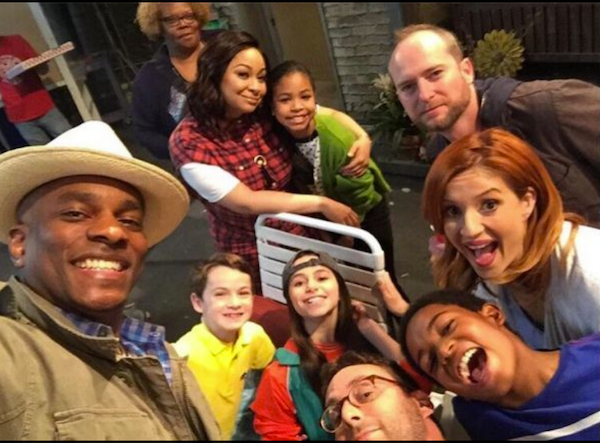 Raven Symone is officially back on the Disney Channel! But this time, as a mom to twins. Her "That's So Raven" reboot, called "Raven's Home," is on the way. We saw the first look at the show and we're totally here for it. She's definitely back in her element. Check it:
Raven, her bestie Chelsea and the rest of the cast land at Disney Friday, July 21st.
In other TV news, Bill Maher is about to get checked over his "House N*gga" snafu. No, HBO isn't cancelling "Real Time with Bill Maher" over his inappropriate comment. But, maybe Ice Cube can talk some sense into him about why he F'd up.
Cube was scheduled to appear on this Friday's episode long before the snafu, and he's not backing out of the appearance like Sen. Al Franken did.
A spokesperson for Ice Cube told HuffPost:
"Ice Cube will still appear on Bill Maher this Friday as scheduled to talk about the release of 'Death Certificate: 25th Anniversary' edition, an album that was recorded in the wake of the Rodney King beating in 1991, which sadly, speaks to many of the same race issues that we as a society are still dealing with today."
Symone Sanders, an activist and former national press secretary for Democratic presidential candidate Bernie Sanders, will also still appear on this Friday's episode.
She said in a statement:
"I am still planning on doing the show Friday. I thought Maher's comment, Ben Sasse's reaction and the crowd's applause were all equally distasteful, inappropriate and offensive. I am glad Maher too recognized as such and issued an apology."
You watching?
Photos: Instagram