Lamar Odom Doing Well After Rehab + James Harden's Interesting Reason For Breaking Up With Khloe + Amar'e Stoudemire Won't Shower With Gay Players
Mar 01 | by _YBF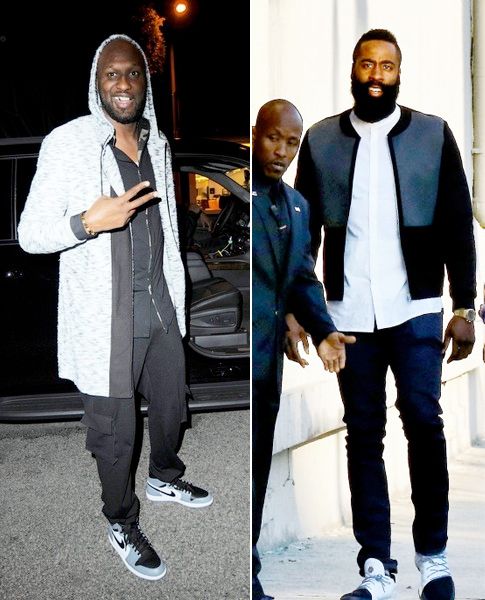 In today's sports round up, Lamar Odom appears to be doing well post-rehab, James Harden opens up about his breakup from Khloe Kardashian, Amar'e Stoudemire says he will NOT shower with a gay player and Darrelle Revis gets cut from the NY Jets. Get all the deets inside…
Well look who it is!
Lamar Odom appears to be doing well after he was released from rehab in January. The former NBA baller was spotted all smiles, throwing up the peace sign and flashing his gold tooth, as he exited Ago restaurant in West Hollywood after inhaling some good food.
Last month, Lamar made his way to Wiz Khalifa and Amber Rose's son Sebastian's 4th birthday bash and he looked good then too. He seems to be doing well since cutting ties with his ex-wife Khloe Kardashian, although he recently said he wishes he could get her back. No, Lamar. Just no.
Speaking of Khloe…
Houston Rockets baller James Harden, above arriving at Jimmy Kimmel's studio yesterday, is now opening up about his 8-month relationship with reality star Khloe Kardashian, Lamar Odom's ex-wife.
In an interview with Sports Illustrated, James revealed he got tired of all the extra media attention he was receiving.
"I don't like all the attention," he said. "I feel like it was for no reason. I wasn't getting anything out of it except my name out there and my face out there, and I don't need that. It wasn't uncomfortable, but it wasn't me.
The 27-year-old NBA star felt like his relationship was having a negative affect on his teammates so he deaded the situation.
"I don't need pictures of myself when I'm driving my car," he continued. "Who cares? What shoes am I wearing? Who cares? Where am I eating? Who cares? It was unnecessary stuff that I think trickled down to my teammates. I had to eliminate that."
So you voluntarily dated a woman who is famous for being famous and literally made a business off of it, but you didn't want the attention?
Sir...
In other basketball news…
Former NBA star Amar'e Stoudemire says he will do whatever he has to do to stay away from a gay teammate. Wow.
The former NY Knicks baller, who now plays for Hapoel Jerusalem in the Israeli Premier League, did an interview with Israeli website Walla Sport and he was asked if he would have a problem with a gay teammate.
"I'm going to shower across the street, make sure my change of clothes are around the corner," he responded. "I'm going to drive…take a different route to the gym."
He was then asked if he was joking. "I mean, there's always a truth within a joke," he said.
Peep the video above. Thoughts?
By the way, Amar'e was fined $50,000 after tweeting a gay slur at another user during the offseason in 2012.
UPDATE:
Amar'e is now apologizing for his homophobic comments via a statement released by his current team. He said:
"I want to apologize for my offensive comments against the LGBT community. These remarks were taken from a larger interview where a reporter was asking me hypothetical questions, and all my answers had a comedic undertone."
In football news...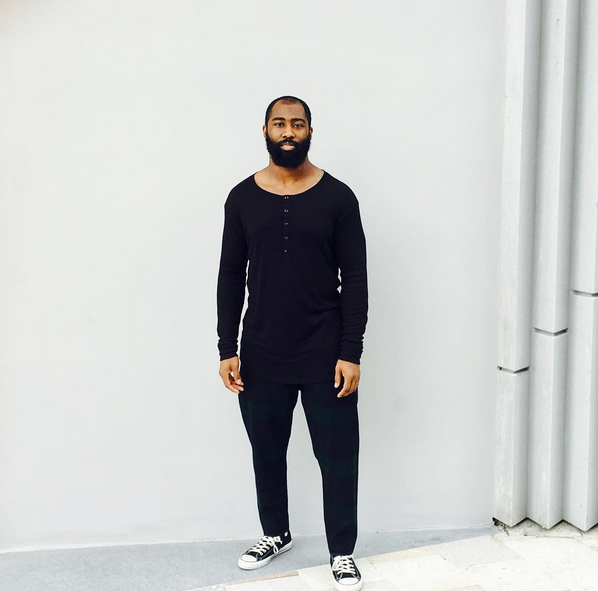 NFL cornerback Darrelle Revis was released from the New York Kets today, nine days after his arrest in Pittsburgh after an alleged street fight. You'll recall, the 31-year-old baller was charged with four felonies, including two counts of aggravated assault, one count of conspiracy and one count of robbery.
While the arrest likely put the icing on the cake (even though the team claims it had no bearing), the Jets would have likely got rid of him regardless because they wouldn't have wanted to pay the $15 million he was scheduled to be paid this season. He will still get his guaranteed $6 million for 2017. As of now, the Jets will not try to recoup the $6 million, but if he's convicted that could change.
With his age and that charge, it's going to be hard for him to get picked up by another team.
Damn homie. Time will tell.
Photos: FameFlynet/Pacific Coast News/Darrelle's IG