#GRABYOURWALLET: Nordstrom's Stock Skyrocketed After Trump Dragged Them And Celebs Led Charge To Shop There
Feb 10 | by Natasha
After Trump tried his damndest to drag Nordstrom this week for dropping his daughter Ivanka Trump's collection, his plan to discredit them backfired. Deets on how protestors with wallets are winning inside...
My daughter Ivanka has been treated so unfairly by @Nordstrom. She is a great person -- always pushing me to do the right thing! Terrible!

— Donald J. Trump (@realDonaldTrump) February 8, 2017
So, that tweet above set off a firestorm of ish this week. It was 45's response when Nordstrom made it known they were dropping Ivanka's clothing and shoes. The official statement from the retailer was that it was al due to underperformance, but the rest of America know the real deal.
Since election day, folks have been protesting Trump and his family -- who have arguably an ish load of conflicts of interests with their personal businesses being promoted by and tied to the White House -- and everything they stand for. This includes their personal businesses.
The #GrabYourWallet campaign started when celebs and influencers made boycotting Trump businesses into trending topics. We highly doubt it's simply a coincidence that Ivanka's collection started to tank at Nordstorm (and now other stores from what we hear).
Despite Nordstrom tweeting out that they aren't getting political, America sees it differently. So differently that celebs and influencers then started to tell folks to go spend some coin at Nordstrom, to show Trump can't bully folks into bankruptcy.
In the two days following Trump's Twitter outburst, Nordstrom's stock rose by nearly 7%.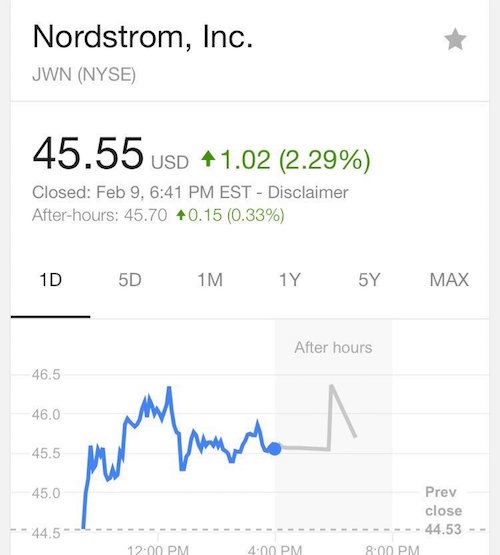 Bloop.
Chelsea Handler, one of the ringleaders, is ecstatic:
Nordstrom stock had a record day after getting rid of Trump merchandise, the government should follow suit. Also, unfollow trump on twitter.

— Chelsea Handler (@chelseahandler) February 10, 2017
Other celebs like Aisha Tyler and Ru Paul (and ton of others) joined in on the reverse boycott this week and encouraged others to do so as well::
Been shopping at @Nordstrom https://t.co/ZARY7vzS9N pic.twitter.com/HnJh9gD7JD

— RuPaul (@RuPaul) February 10, 2017
Just dropped a giant pile of money with @Nordstrom. Happy to spend my money with you. Off to @starbucks now! #grabyourwallet

— Aisha Tyler (@aishatyler) February 9, 2017
And then there's this: The private heirs of Nordstrom also made a ridiculous windfall. And it makes us go "hmmm..." Forbes reports:
Their eponymous clothing chain is in the midst of a difficult stretch; shares have fallen by more than a quarter since early December, and the stock has roughly halved since hitting a record high in March 2015. At that time, Gittinger and Nordstrom were each worth over $1.8 billion. Their net worths have since fallen to $1.2 billion and $1.15 billion, respectively, according to FORBES' real-time rankings of the planet's wealthiest people.
So either way, they'll be fine. And while they SURELY don't NEED a sudden influx of coinage to survive, the act of a company like Nordstrom standing up and keeping to their word followed Americans supporting them is a great precedent. It does have a trickle down effect for those smaller companies who WILL need an influx of coinage to survive if Trump attacks them.
George Takei said it best:
When Uber, Starbucks and Nordstrom take a stand, it gives courage to others to also walk away, to reject "do business with Trump or else."

— George Takei (@GeorgeTakei) February 10, 2017
Touché.
Photo: Getty