EXCLUSIVE: Newlywed Adrienne Houghton Just Dropped Some Bomb Dating Advice, And We're Taking Notes
Feb 09 | by _YBF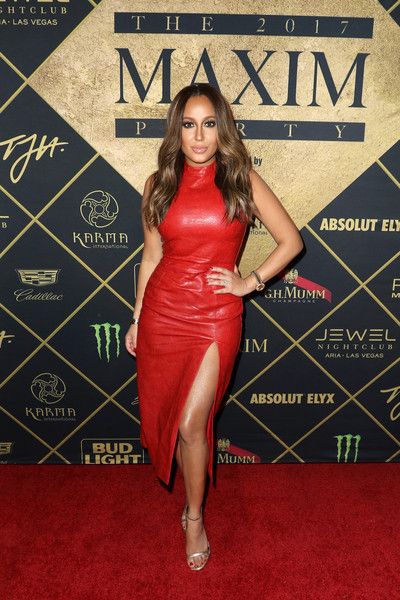 Adrienne (Bailon) Houghton dropped some dating advice on how to find a lifelong partner. And it starts with reevaluating your "filters." Find out what she means inside….
Adrienne Bailon became Mrs. Adrienne Houghton after tying the knot to her now husband Israel Houghton on November 11th in Paris. Now, she's dropping a few gems on how to snag the man of your dreams.
YBF's Houston correspondents Desola Awofeso and Rebecca Guillory caught up with "The Real" co-host on the red carpet at The Official MAXIM Super Bowl Party 2017, presented by Thomas J. Henry and produced by Karma International, recently where she dropped some bomb dating advice. The fab chick walked the carpet at the Smart Financial Centre in H-Town before stopping to chat.
With V-Day right around the corner, we asked her for some dating advice.
As a single woman looking for a man, one often times put "filters" on what we're looking for in a man: He has to be tall; He has to make a certain amount of money; He can't have kids, to name a few.
Well, Adrienne says if you adjust your filters but still stay true to your core values, then plenty more options open up for finding "the one."
"Change the filters on what you're looking for," Adrienne said. "Broaden your horizons, you never know the man of your dreams could be around the corner, it could be someone who is already in your life. But, don't limit yourself for what you're looking for."
Say what you will about the singer-actress, but she may be on to something. Peep the clip above.
Be sure to check out our massive gallery of flicks from star-studded parties that went down over the Super Bowl weekend below!
Photo: Getty