B'BALL HALL OF FAME INDUCTION: Allen Iverson Delivers Super Emotional & Heartfelt Speech + Shaq Cracks Funny Kobe Bryant Jokes During Speech
Sep 10 | by _YBF
What an epic night! Allen Iverson, Shaq and Sheryl Swoopes were inducted into the Basketball Hall of Fame last night. And it was nothing short of amazing. Go inside to see Iverson's super emotional speech and Shaq cracking jokes on Kobe Bryant during his speech inside….
Last night was a night for the greats!
The 2016 Basketball Hall of Fame inducted a few YBFers into the fold at the Enshrinement Ceremony held at Symphony Hall in Springfield, Massachusetts yesterday.
NBA legend Allen Iverson delivered a very emotional speech that didn't leave one dry eye in the room. He stood before the audience over 30-minutes fighting back tears while spilling his heart out of how grateful and thankful he is for all of the people who were behind him to help him achieve his goals as he worked his way to become an NBA icon.
"I have no regrets being the guy that I am, a person my family loves, my friends love, my teammates love, my fans love," said A.I.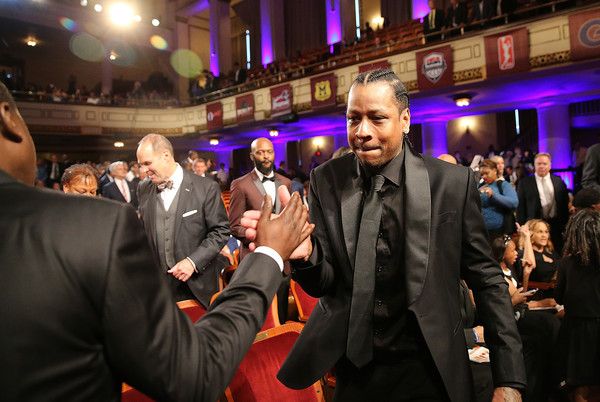 The former Philadelphia 76er thanked his former college coach John Thompson for saving his life by giving him a chance when no one else would. He also thanked a host family members, notably his mom for driving to Georgetown to beg Coach Thompson to give her son a chance, his former teammates, coaches, and executives.
A.I. recognized each of his 5-children individually, thanking them for loving him unconditionally. He said, "Thanks for being my crutch and I love y'all so much." He also showed love to some legendary rappers. "I want to thank Biggie Smalls, Redman, Jadakiss, Tupac and Michael Jackson for being my theme music throughout my career," Iverson said.
Lastly, he thanked his wife Tawanna Iverson, calling her his #1 person in the world. He said he couldn't thank her enough for all she has done for him during their 24-year marriage. He said she brings out the best in him and that she too, is a Hall of Famer. Aww.
Peep his emotional speech (grab some tissues!) below:
Then came the laughs....
Shaquille O'Neal took the podium after A.I., but his speech took a different turn. A rather funny turn.
After thanking those who came before him such as Julius Erving, Bill Russell and Isaiah Thomas (to name a few), Shaq lit up the room with laughter cracking jokes throughout his acceptance speech.
He thanked his former Los Angeles Laker teammate Kobe Bryant, who helped him win 3 NBA championships in a row, and then he had everyone bursting into laughter with his punchiline. He said, "Last but not least, the great Kobe Bryant. Kobe Bryant, a guy who will push me and help me win three titles in a row. But also help me get pushed off the team and traded to Miami."
Check it:
.@SHAQ's shoutout to Kobe #16HoopClass https://t.co/G7j2pzUk5q

— NBA TV (@NBATV) September 10, 2016
He also explained why he decided to do that Buick LaCrosse commercial where he claims he owned one of the vehicles although he could barely fit in the car. Shaq said "for $3 million I can fit!"
Check it:
.@SHAQ leaving no stones unturned tonight. #16hoopclass https://t.co/pfpDR2jtxj

— NBA on TNT (@NBAonTNT) September 10, 2016
Ha!
Shaq thanked his 6 children and had them stand up before the audience. His ex-wife Shaunie O'Neal and his first child's mother also stood with the family as he thanked them for their support.
Peep his full speech below:
#16hoopclass https://t.co/hUHKoAJtRg

— NBA TV (@NBATV) September 10, 2016
WNBA star Sheryl Swoopes, who was a beast on the court, was also inducted into the Basketball Hall of Fame last night where she dropped a few gems on the younger generation, reminding them to "work hard, believe and never give up" on their dreams.
You can peep her full speech here.
More flicks from the event...
NBA Hall of Fame inductee Allen Iverson was shown some love from legends Gary Payton and Isaiah Thomas.
Former Houston Rocket baller Yao Ming was also inducted during last night's ceremony.
And rapper Jadakiss got all dressed up to pay his respects to the basketball legends. We're sure he loved the shoutout.
Fun times!
Photos: Getty/HoopHall's IG/Jadakiss' IG