Solange Celebrates #BlackLivesMatter Activist DeRay Mckesson's Release After He Was Arrested At Baton Rouge Protests
Jul 11 | by Natasha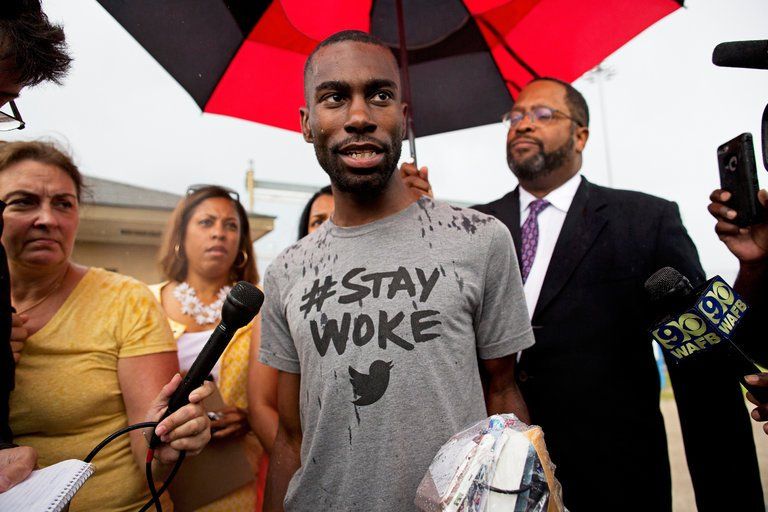 DeRay Mckesson is free. Get the latest inside on the #BlackLivesMatter leader's protest arrest, his release, Solange Knowles' support and how he and other arrested protestors got through the night...
It was a doozy of a weekend all of the country, but specifically in Baton Rouge. While protesting for justice for Alton Sterling and other black men wrongfully killed by police, one of the faces of #BlackLivesMatter was forcefully arrested seemingly for exercising his right to protest.
In a video published live to his periscope, DeRay is heard saying "I'm being arrested" while the people nearby exclaim that he did nothing to deserve this. He was standing on the side of a highway filming the protest that was going on. Perfectly legal.
We're told by Baton Rouge residents that there is minimal space on the side of the roads and highways where the protests were taking place, and the protestors were standing and walking as far to the side as they possibly could, as to not block traffic.
It didn't matter.
DeRay, who's been a victim of a serious hacking scandal certain folks love to use as a fraudulent tool against the #blacklivesmatter movement, believes it was a strategic move by the cops:
He spoke to the NY Times upon release: He spent 16 hours in a Baton Rouge jail cell until he was released Sunday afternoon, vowing to continue demonstrating because he was convinced that the authorities want activists to be "too afraid to protest."
Sad.
As for what went down in jail:
The Parrish jail staff had us wear orange jump suits. I've since been told that this is not normal protocol. https://t.co/55xXmeFKiJ

— deray mckesson (@deray) July 11, 2016
Apparently, the Parrish jail is now only taking money orders today & all of the banks are closed. #BatonRouge

— deray mckesson (@deray) July 11, 2016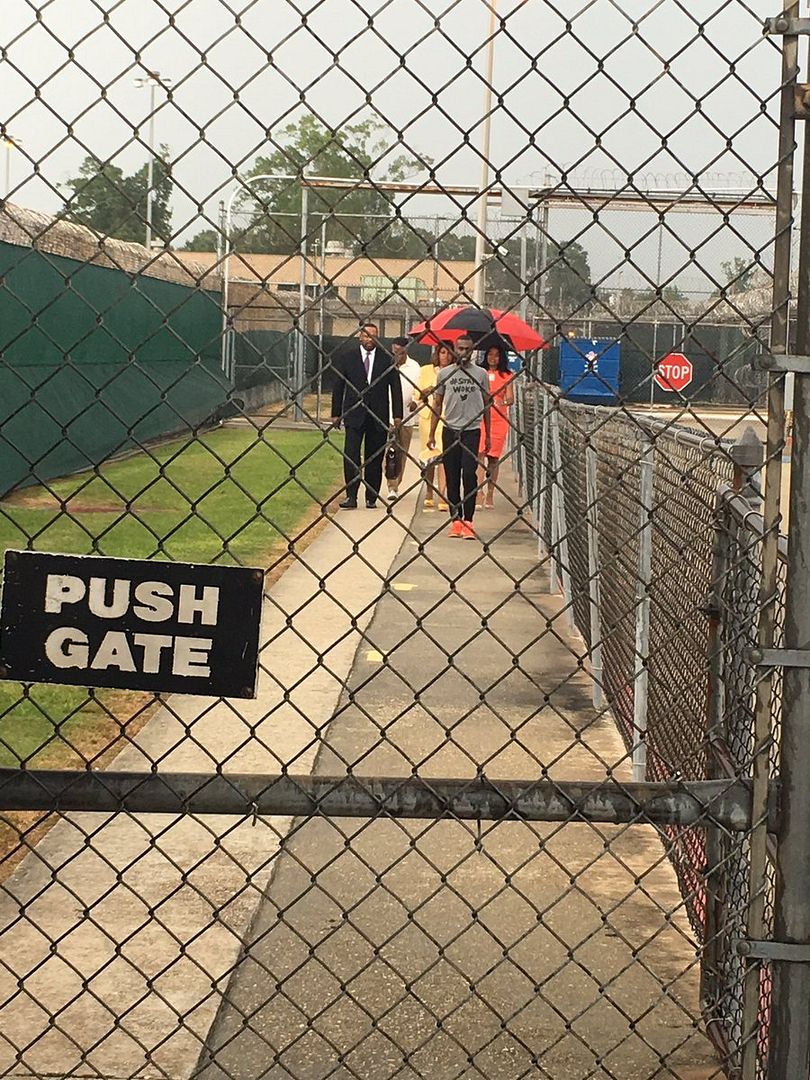 Once he was finally released, he gave this inspirational statement on Twitter:
As I was in the cell over the past 17 hours, I thought of the quote that simply says if you want to test a man's character, give him power. 5 days ago, we saw the character of a few #BatonRouge officers as they used their power to act as the judge/jury then kill #AltonSterling. 4 days ago, we saw the character of a police officer in MN, like those in #BatonRouge, as he used his power to executive #PhilandoCastillo. 3 days ago, we saw activists & organizers continue to challenge the abuse of power of police officers in the name of the newly fallen. 2 days ago, the protests continued to grow in #BatonRouge & shifted from Foster to Airline, as folks steadfastly challenged police power. 1 day ago, just last night, we saw the police abuse their power & intentionally provoke protestors in order to create & exploit conflict. There is no group of citizens that should be able to exercise their power w/o accountability or transparency, like the police currently can. In the Parrish prison cells, we continued to talk about the work of social justice & to build community. We all continue to grow. At times, all 50 of us were in one cell, unable to all sit, sleeping on the floor or under the benches. But our spirits remained strong.
I learned much about #BatonRouge from Chris, Miguel, & countless others while in custody & was also able to share info re: social justice. We talked about a lot in those cells -- about #BlackGirlMagic in protest, the Metro Council, new ways of organizing, and voting. I'll write something soon about the past 17 hours. But I want to thank @nettaaaaaaaa, @MsPackyetti, & @BossierS for holding me down. And we are working w/ so many incredible folks to ensure that the rest of the people arrested get released quickly, too. I think of protest as truth-telling in public. And I will never be afraid to tell the truth.
And shout-out to @Twitter and @periscopeco for helping us tell our story last night & over the past few years. Y'all are invaluable. And thank you to the young woman who allowed me to text from her phone when I first got arrested so I could contact friends & the media. I love my blackness. And yours.
And thank you to everyone who called, emailed, tweeted, texted, or donated on behalf of those of us who were arrested last night. Sidenote: jail breakfast is awful & they'd be much better off buying apples to replace the "oatmeal" & the OJ is grainy.
The judge called in and set all of our bails early this afternoon, folks have been getting released for the past few hours. I'm going to get a quick nap now. Sleeping on the floor under the fluorescent light of a jail leaves a lot to be desired. Be well, y'all.
He was released on his birthday, and friend/supporter Solange Knowles came to meet up with the crew to celebrate life:
Solange:
.@solangeknowles and Alan, thanks for stopping by today, bringing love & joy. pic.twitter.com/LY2IHiiEoe

— deray mckesson (@deray) July 11, 2016
Here's what Solo had to say about it all:
Keep pushing, y'all. Stay safe!
Photo: Max Becherer, AP/@MsPackyetti