FOOLYWANG: UCLA Students Protest After Fraternity Throw A "Kanye Western" Party....With Several Folks In Blackface & Fake Butts!
Oct 09 | by _YBF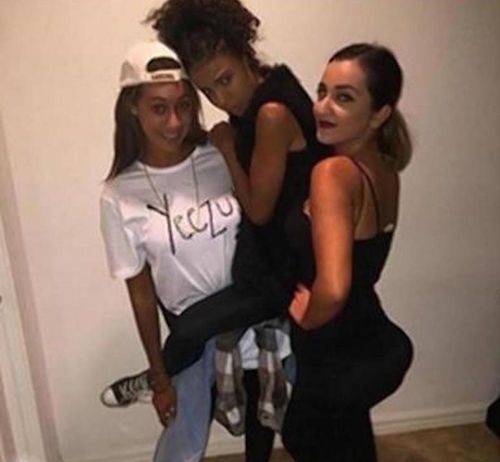 There's a huge controversy brewing on the UCLA campus as the student body is demanding answers following a Kanye West(ern)-themed fraternity party that featured students in blackface. More on the foolywang behavior of the Greeks at UCLA inside....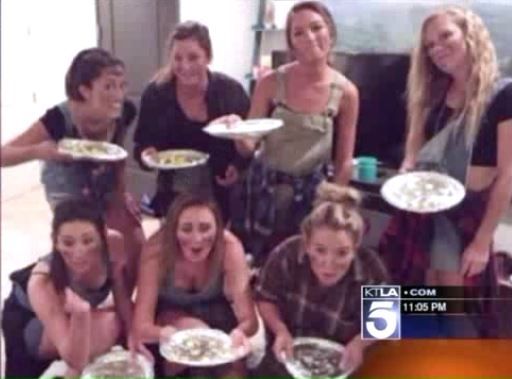 The ish has hit the fan at UCLA. On Tuesday night, students at the historically white Sigma Phi Epsilon fraternity (and their sister sorority) had a "Kanye Western"- themed party where several attendees had charcoal smeared on their faces, wore oversized clothes, and dressed like Kardashians (with enhanced buttocks). Yep, we've heard all this before. So why do these kids insist on continuing to do such parties? Who knows.
Pictures from the party went viral very quickly, as they ALWAYS do, and now students on the campus are outraged. They've even got a hashtag! #BlackBruinsMatter (Bruins = school mascot).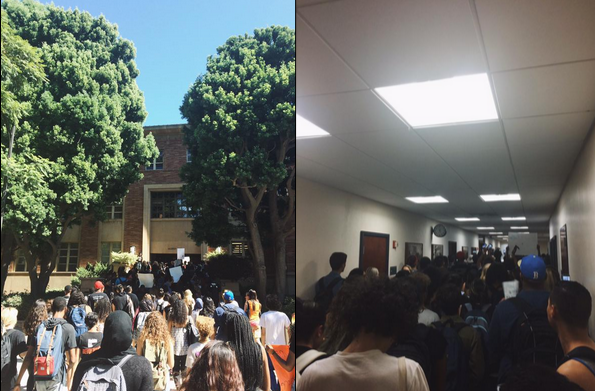 Yesterday, the "Black Bruins Matter" group crammed into Chancellor Gene Block's office where they demanded a response regarding the photos. According to the LA Times, some even held signs reading, "Our culture is not a costume" and there were chants like "Black Bruins' Lives Matter."
Jerry Kang, vice chancellor for UCLA's Office of Equity, Diversity and Inclusion, told the crowd he was heartbroken and the school is trying to address concerns. He said:
"It's one thing to suggest you are actually focusing on one celebrity who is African American, it's another thing to take it as a license to perform every attribute, every stereotype, every grotesque minstrelsy that you see."
By the way, a handful of Black students actually attended the party. The LA Times quoted once Black attendee saying, "The issue isn't simply about putting on blackface," she said. "It is also about the entire mockery of black culture." The Times reports:

Kelsee Thomas, a member of the black student union, added, "Everyone keep in mind that simply because I go to one of the top ranked institutions in the country, doesn't mean I'm any farther away from ignorance and racism as anyone else. They just hide it behind frat/sorority themes, anonymous postings, and micro-aggressions. This isn't over though."
In response to the controversy, UCLA released a statement saying,
"While we do not yet have all the facts, the alleged behavior is inconsistent with good judgment as well as our principles of community. We remind students that while they are free to celebrate in ways that draw on popular culture, their specific choices can cause harm and pain to fellow members of their community. Put simply: Just because you can do something, does not mean you should."
Meanwhile, Sigma Phi Epsilon's national office says the UCLA fraternity chapter has temporarily suspended activities during an investigation of the incident and their sister organization, Alpha Phi, has been temporarily suspended too.
Fraternity spokesman Beaux Carriere put out a statement saying, "Building diverse and inclusive communities is core to our identity as an organization, and we have zero tolerance for racist behavior. Sigma Phi Epsilon will continue to work with the university and UCLA community to investigate these claims and hold students accountable for any inappropriate behavior."
FYI - No one from the Kardashian/West team has addressed or acknowledged the controversy. Kanye has been quoted as saying racism is a dated concept saying earlier this year:
"It's like a bouncing ball in a room with two cats, or something, when you don't feel like playing with a cat. Let them literally fight over the bouncing ball. And the bouncing ball has nothing, no purpose, anything other than that: It bounces. That's racism. It's not an actual thing that even means anything. It's played out like a style from the 1800s or something. "
We'd love to hear his take now...
Photos via Chloe Pan/Twitter/KTLA