Eminem Pens Heartfelt Hand-Written Letter To Tupac's Mother Afeni Shakur…And His Penmanship Is Impressive + DMX Gets 6 Months In Jail!
Jul 15 | by _YBF
A letter written by Eminem to Tupac's mother Afeni Shakur has surfaced. And it has us all in our feelings. Meanwhile, DMX has been arrested and is currently serving a 6-month sentence in New York. Check out Em's penmanship and drawing, along with X's mugshot and deets on why he's currently behind bars inside…..
Grab your tissues…Eminem has us all in our feelings after reading a heartfelt letter he wrote to Tupac's mother Afeni Shakur.
The Detroit rapper gifted a hand written letter and drawing of the Hip Hop legend to his mother, showing his gratitude for the opportunities she has given him and praising her son for inspiring his musical career.
The letter and drawing popped up on a Reddit thread over the weekend and is now making its rounds on the Internet. We're not exactly sure when the letter was written, but it appears to be on display at the "Tupac Amaru Shakur Center for the Arts" in Stone Mountain, Ga. And if you're wondering the authenticity of the letter and drawing, COMPLEX confirms it's 100% real via a rep at Shady Records.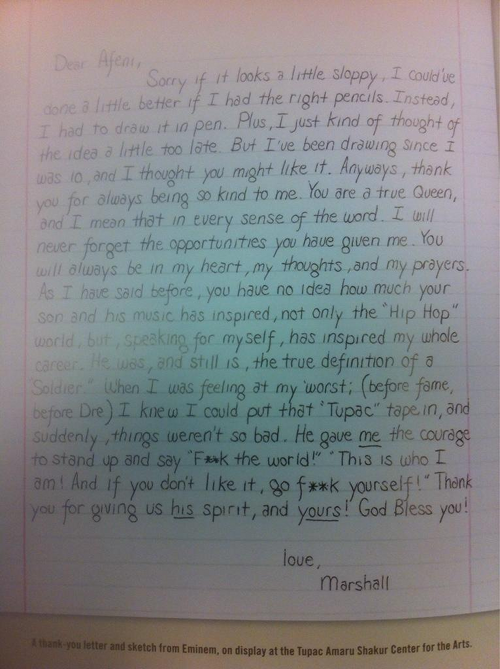 In part, he writes,
"Anyways, thank you for always being so kind to me. You are a true Queen, and I mean that in every sense of the word. I will never forget the opportunities you have given me."
Afeni reportedly gave Eminem permission to produce an entire Tupac album titled Loyal to the Game after he begged her to consider him to produce on the album. It was released in 2004, so we assume this letter was written following the release of the LP.
In the letter he adds,
"As I have said before, you have no idea how much your son and his music has inspired, not only the "Hip Hop" world, but, speaking for myself, has inspired my whole career. He was, and still is, the true definition of a 'Soldier.' When I was feeling at my worst; (before fame, before Dre) I knew I could put that 'Tupac' tape in, and suddenly, things weren't so bad. He gave me the courage to stand up and say "F**k the world!" This is who I am! And if you don't like it, go f**k yourself! Thank you for giving us his spirit, and yours! God Bless you!"
Aww…so sweet. And can we take a moment to highlight Eminem's incredible penmanship? On top of that, he's got drawing skills as well. Check it: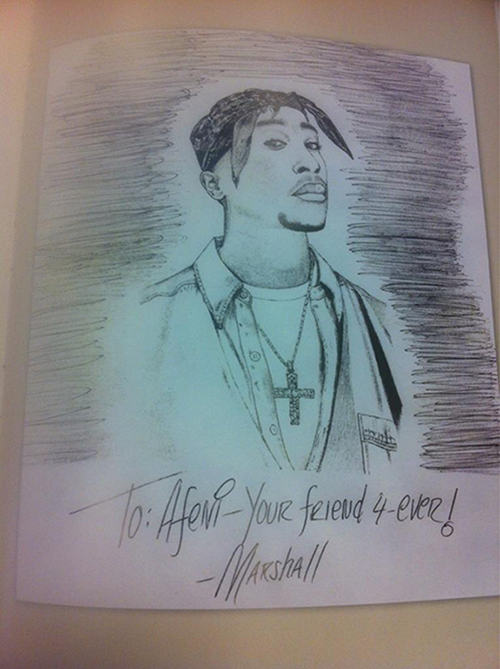 Nice.
In lock-up news...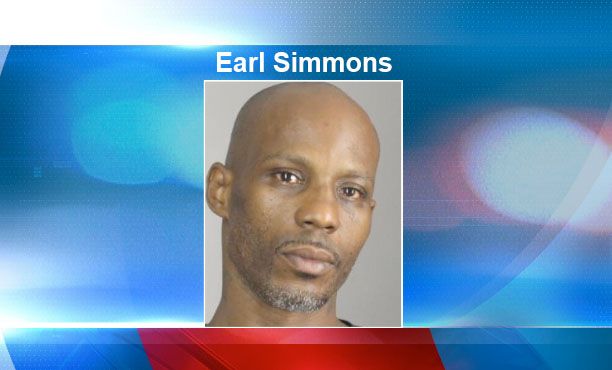 When will DMX get tired of getting arrested and being behind bars? The question has yet to be answered as the rapper was arrested recently in NYC.
According to reports, DMX (real name Earl Simmons) will be spending the next 6-months behind bards after being arrested right before he was set to hit the stage at Radio City Music Hall on June 26th. He was placed at the Erie County Holding Center on Tuesday where the judge issued his sentence. Sighs….
He was reportedly booked on owing $400,000 in back child support. He also has a warrant issued by the city of White Plains for jumping bail (meaning he didn't show up to court after posting bail) and a robbery complaint out of Newark, New Jersey. No charges have been filed in the Newark case (yet).

Fix it Jesus...because Iyanla Vanzant already tried.
Photos: Getty/Reddit/WIBV-TV