Tyga Lawyers Up After Penis Pics Leak—Allegedly By A Transgender Model + Former NFL QB Donovan McNabb Flashes A Huge Grin In DUI Mugshot
Jul 07 | by _YBF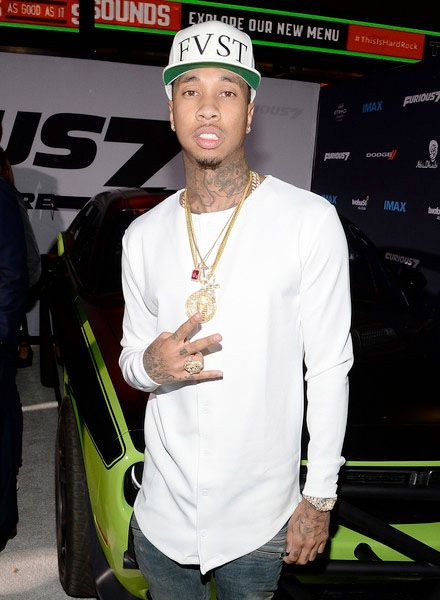 Tyga's "nuddies" popped up online recently, allegedly leaked by a transgender woman he was supposedly sexting. And now, he has lawyered up and is ready to fight back!
In other news, Donovan McNabb was BUSTED on yet another DUI charge in Arizona. And he looks very happy about it in his mugshot. More inside….
Unfortunately for Tyga, someone is out to expose his a**. And they went straight for the jugular (pun intended) leaking his penis pics to the masses to see.
According to Love B. Scott, an anonymous person tipped them off that T-Raww was allegedly cheating on his rumored 17-year-old girlfriend Kylie Jenner with a transgender woman. And they coughed up the receipts to prove it.
The anonymous source sent in alleged text message conversations between the west coast rapper and transgender "actress" (we're using that term loosely) Mia Isabella. To further prove, Tyga was cheating, the anonymous source also sent in screenshots of T-Raww sending Mia a picture of his dick. We can't post them here, but you can check them out by clicking here.
We'll just say it looks like he's been using his girlfriend's lip plumper contraption...
Tyga is furious and wants that person held accountable. The "Ayo" rapper's lawyer, Lee Hutton, addressed the situation with TMZ saying, "The allegations are false and socially irresponsible during a time when many Americans are celebrating equality."
We assume he's referring to the recent marriage equality ruling and the fact his rumored girlfriend's dad transitioned into Caitlyn Jenner.
Tyga's attorney believes this is a smear campaign to "maliciously shame" him and to manufacture a fake story. Why? Who knows.
Tyga vaguely addressed the rumors on Twitter tweeting:

While he isn't saying much, his friend/business partner T-Rell had plenty to say. He's fed UP and TIRED of people trying to mess up Tyga's "happy home." We assume he means with his rumored girlfriend Kylie. According to T-Rell, Tyga is the happiest he has seen him in the last 3 years.
Three years, he said? It could mean Tyga has been happiest for the last 3 years....which would put Kylie at 15.... if that's who he's speaking of having something to do with that happiness. Or, he could be saying Tyga is now happy after three years of being unhappy. Who knows.
Here's what he said in full: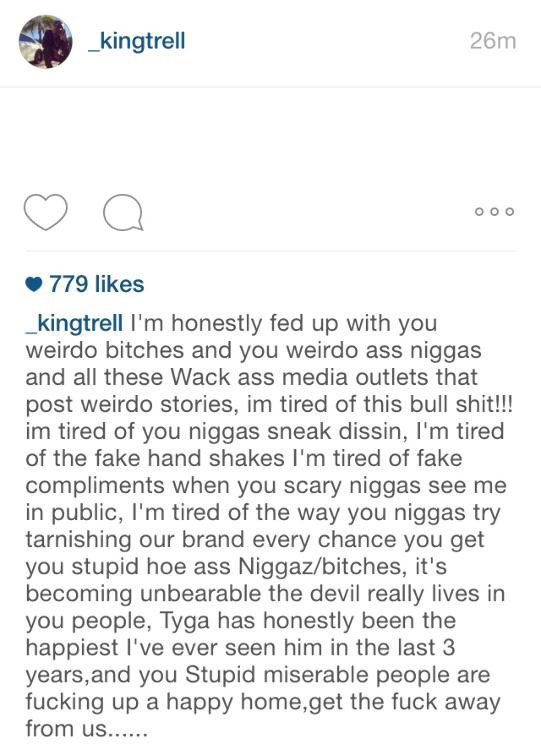 Sighs....
We're sure this will rev up the views on his upcoming reality show "Kingin' With Tyga" set to premiere Friday, July 24th on MTV 2.
In other news....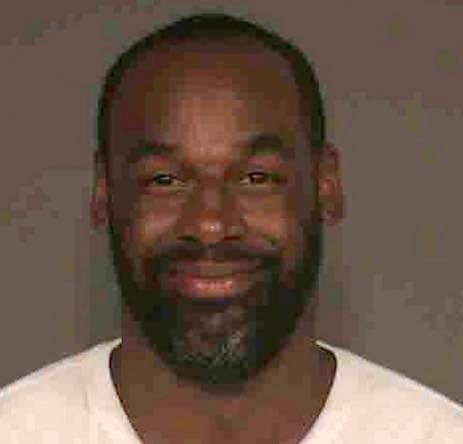 We've just learned former NFL quarterback Donovan McNabb was busted on a DUI charge last month….and he was all smiles in his mugshot.
According to recent reports, the 38-year-old six-time Pro Bowler was arrested in Arizona on June 28th after rear-ending a car stopped at a traffic light! This is his second DUI arrest since December 2013.
The Gilbert Police Department released a statement about the incident which does not specify whether the former NFL star took a sobriety test and his blood alcohol level was not indicated. He was, though, sent to a holding facility before he was cited and eventually released.
Following his 2013 arrest in Arizona, he was charged with a misdemeanor DUI and sentenced to serve a day in jail.
Sighs…when will they learn? Just don't drive after drinking.

Photos: Getty/LarryBrownSports