HE DID WHAT?!: Suge Knight FALLS OUT In Court After Judge Sets BAIL At $25 Million
Mar 20 | by _YBF
Suge Knight is showing his a** in court today. Dude FELL OUT after the judge set his bail at a whopping $25 million. Peep the pics and video of him laid out inside…
It was a very interesting day in court today, to say the least, after the scene Suge Knight put on. Moments after a judge set his bail at $25 million in his recent murder case, the Hip Hop mogul collapsed in a L.A. courtroom, causing the L.A. fire department to intervene and roll him out of the courtroom on a gurney. Oh Suge....

According to Suge's attorney Matthew Fletcher, his client--co-founder of Death Row Records--has been held in solitary confinement and has not received any of his medication to help control his diabetes since yesterday, which he claims is the cause of his client passing out. Hmph. His attorney says he was knocked unconscious after he hit his head on a chair when he fell out.
L.A. County Sheriff's Department spokeswoman Nicole Nishida said Suge was taken to a jail hospital ward where he was evaluated.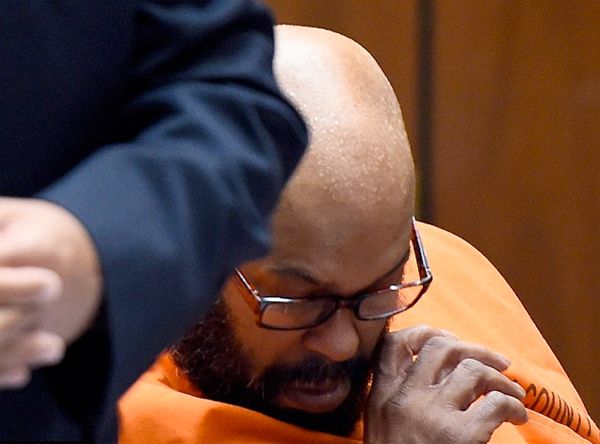 It definitely appears Suge is using his diabetes to his advantage. And we're not the only ones who think so. The L.A. Times reports Deputy Dist. Atty. Cynthia J. Barnes said she believed Suge "did it in front of the cameras."
In February, Suge was arrested and charged with murder and attempted murder after he ran over two men, Terry Carter (who died from his injuries) and injuring Cle Shaheed "Bone" Sloan. The video footage of his deadly hit-and-run was captured on tape and you can peep that HERE.
Since his incarceration, Suge has sought emergency medical care THREE times and also claims he's going blind! At one point, he fired his attorneys, and it appeared he was going to represent himself, but clearly he changed his mind.

Following Suge's court appearance, his lawyer spoke with the press, comparing Suge's case to that of a child molester. He said child predators don't even get $25 million bails, so it infuriates him when the system is used like this. Ummm….ok sir. Peep Suge falling out below:
This guy....
Photos: Getty