FAMILY DRAMA: Nick Gordon BLASTS Bobby Brown For NOT Letting Him See Bobbi Kristina + Bobbi Kris' Aunt RUSHED To Hospital Allegedly Due To "Stress"
Feb 23 | by _YBF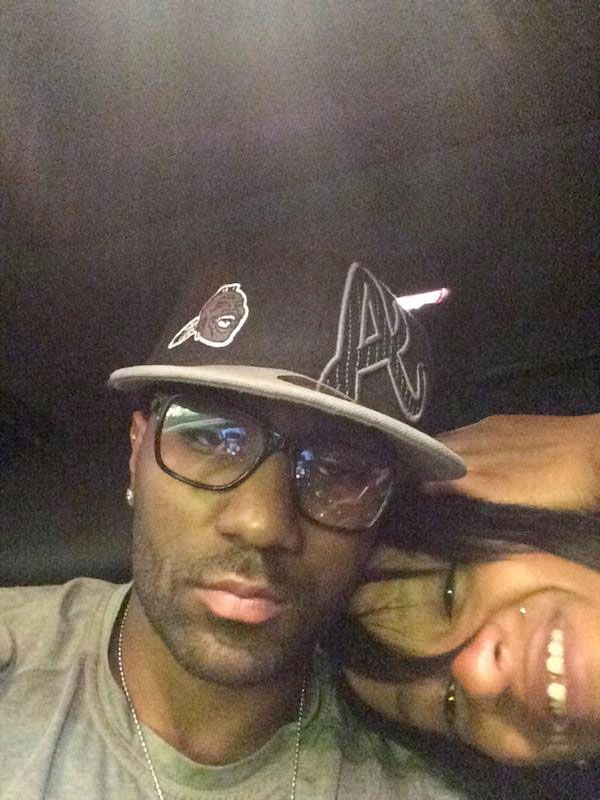 More Bobbi Kristina updates are trickling in. Bobbi Kris' boyfriend Nick Gordon is on Twitter blasting her dad Bobby Brown for keeping him away from her. Also, Bobbi Kris' aunt was rushed to the hospital allegedly due to stress. Get the deets and receipts inside….
While Nick Gordon has been known to take to Twitter to air out any frustrations he may be dealing with, lately he has been pretty quiet on social media, up until this weekend.
In a series of tweets, Bobbi Kristina's boyfriend Nick Gordon (not her husband like they wanted us to believe) begs Bobbi K's dad Bobby Brown and the Brown family to allow him to see her, saying his voice would wake her up out of the coma. Apparently, the Brown family has barred him from seeing Bobbi Kris at her bedside at Emory University Hospital, where she has been fighting for her life as she lays in a medically induced coma.
The Brown family claims they gave Nick a chance to visit Bobbi Kris, but he was unable make the visit due to not agreeing to the family's terms, which have not been specified.
During his Twitter rant, he said he would agree to their terms if Bobby Brown will assure him he can see her 24/7. He then went on to say he has actually already seen Bobbi K at least once and Tyler Perry, some of her aunts and Bobbi's lawyer, joined him. He said he has been receiving death threats from the Brown family, but that's not going to keep him from continuing to try and see her. He accused the Browns of gunning for Whitney's money!
And then here's the kicker….Nick also uploaded a series of text messages he allegedly sent to Bobby Brown, telling him to "grow up" and that his daughter is going to HATE him once she wakes up and finds out what he was doing.
Peep his receipts: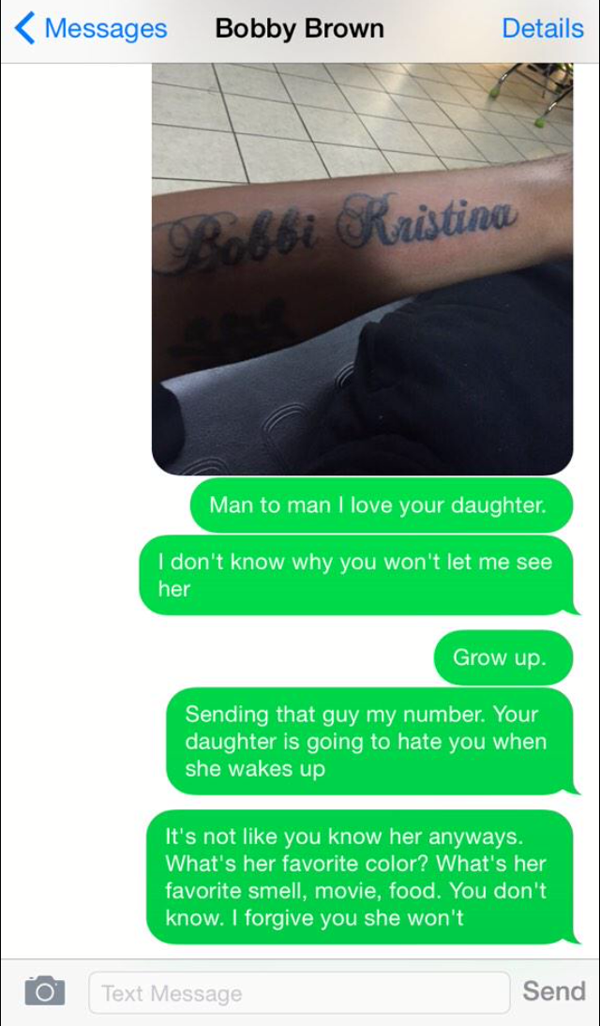 And below is his Twitter rant with all of his accusations (read from the bottom up):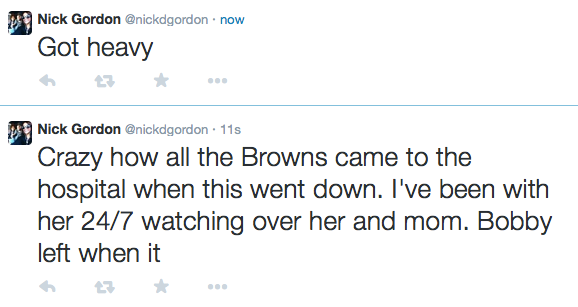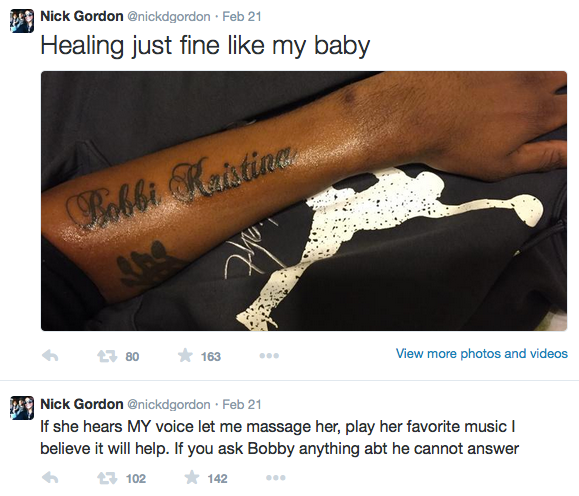 He also shared pics of his new "Bobbi Kristina" tattoo and a tattoed portrait of the late singer Whitney Houston, the woman he considered to be his mother: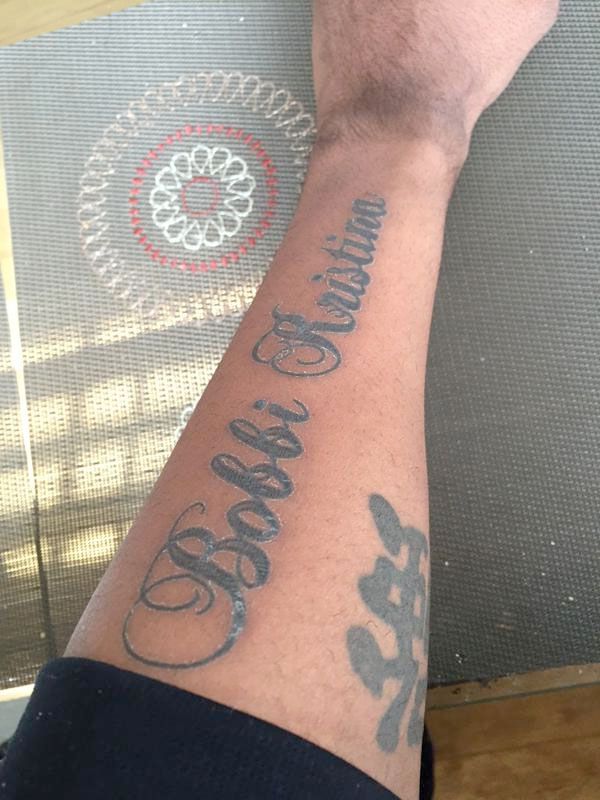 We're sure Bobby isn't going to let him anywhere NEAR Bobbi K now that he has put him on blast.
On Sunday, Bobby Brown's older sister was rushed by ambulance to the same hospital as Bobbi Kristina after stroke-like symptoms.
A source tells RadarOnline that Tina Brown was rushed to the hospital after her body went numb on her right side and feeling sick. It's reported she has a history of heart trouble and that the added "stress" revolving around Bobbi Kristina's recovery is likely the cause. A source allegedly told the publication, "She's very stressed out."
This is the same aunt who supposedly hit her son upside the head with a bottle, causing him to receive stitches during an argument earlier this month. Her son, Shayne Brown, decided not to press charges against his mom.
Prayers all around.

Photos: Nick's IG