TATS & TUNES: Lil Wayne DEBUTS TWO New FACE Tattoos + Jodeci Releases "Nobody Wins" Ft. B.o.B.
Dec 22 | by _YBF
Lil Wayne copped two new face tattoos to add to the slew of tats he already has. Plus, Jodeci is continuing their musical comeback, releasing their single featuring B.o.B. titled "Nobody Wins". Get into the tats and tunes inside….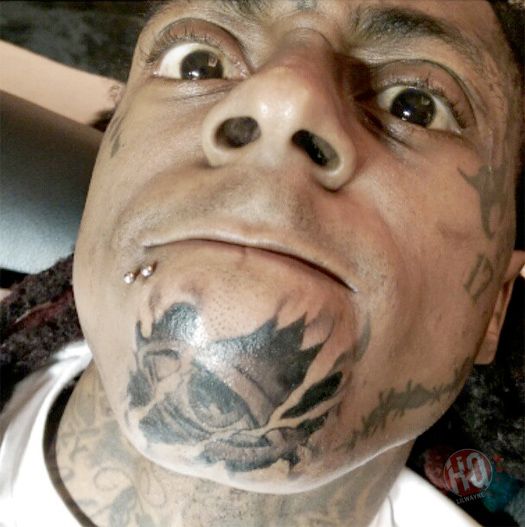 If you thought Lil Wayne couldn't possibly add any more tattoos to his face…guess again! Dude just copped him not one, but two brand new face tattoos.
While the disgruntled rapper works out his issues with his Cash Money record label, it seems Lil Wayne has found a way to release his frustrations. Weezy debuted two new face tattoos that he copped a few days in San Clemente, California by a tattoo artist named Spider.
It appears the YMCMB honcho tatted the Eye of Providence symbol (which is sometimes interpreted as representing the eye of God watching over humankind) on his chin and the saying "Mumma's Boy" written in Arabic over his left eyebrow.

Oh Weezy....
In music news....
You've seen them reunite at the 2014 Soul Train Music Awards. Now…90s legendary R&B group Jodeci is gearing up for their musical comeback after an almost two decade hiatus.
Tackling a very hot topic in the media right now, Jodeci joins forces with B.o.B. for "Nobody Wins", a track raising awareness to domestic violence (which they performed during their Soul Train Music Awards performance).
Along with their new single, the R&B crooners are teaming up with superproducer Timbaland for their comeback album. The group is also readying a reunion tour alongside R. Kelly, which they are calling the "Real Kings of R&B" tour. So Jodeci fans, get ready!
Check out their new anthem below:

We feelin' it?
Photos: Lil Wayne's HQ/Rap-Up