Floyd Mayweather's Baby Mama Josie Harris BLASTS Shantel Jackson Over Lawsuit + DNA Results PROVE Flo Rida Has A NEW Son
Sep 07 | by _YBF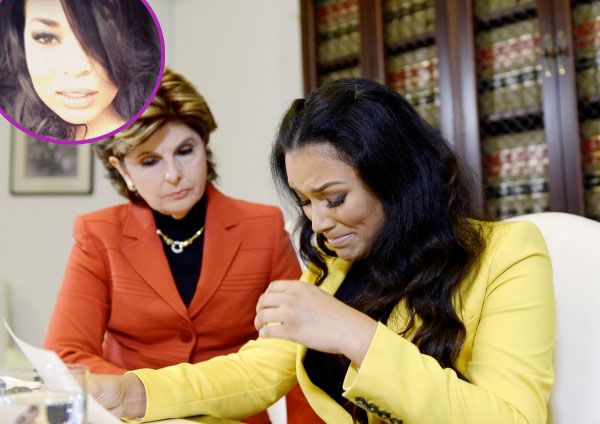 In today's foolish activity news, Floyd Mayweather's baby mama Josie Harris is coming for his ex-fiancée Shantel Jackson after she filed a lawsuit over domestic abuse and a host of other things. Meanwhile, Flo Rida just found out he has a new son! Deets inside…
Floyd Mayweather's ex-fiancée Shantel Jackson is lawyered and ready to go to war in court. But one of his baby mamas is ready to duke it out…via social media.
Josie Harris, the mother of 3 of Floyd's children, blasted Shantel Jackson on Twitter after she learned Floyd's ex had filed a lawsuit against the boxing champ. Ms. Jackson (who's currently been spending a lot of free time with Nelly) is suing Floyd for several physical altercations, pulling a gun out on her, defamation and invasion of privacy.
But Josie was singing the same tune back in 2010. You'll recall, Floyd Mayweather was convicted of assaulting her and ended up spending 3-months behind bars. At that time, Shantel was riding for her man, claiming Josie was lying. Now….Shantel is the one making claims that she was abused by Floyd and Josie just had to get back at her!
Josie blasted Shantel on Twitter tweeting (read from the bottom up):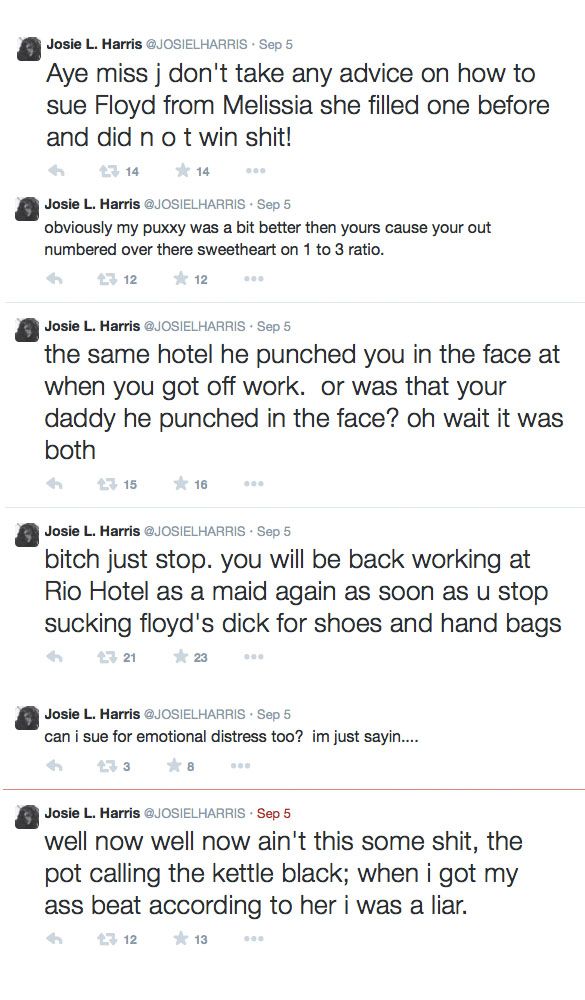 Ouch! Apparently Floyd's other baby mama Melissa Brim filed a lawsuit as well and got nothing. This is just a mess....
And in other news....
Congrats are in order for Flo Rida (kinda). He just found out he has a new son….the son he once denied and allegedly offered to pay for an abortion.
Here's the backstory: a model by the name of Natasha Georgette Williams sued Flo Rida last year while she was pregnant, claiming the child she was carrying was his. But he denied it. So she took him to court for child support. But not just any kind of child support, she went for "good fortune" support. Under Florida law, "good fortune" child support is money awarded to the payee above the amount specified in the child support guidelines.
Now that the child has been born, a DNA test was done and Flo Rida is that baby's daddy. Natasha's lawyer Ray Rafool told TMZ, "Though not a surprise to Ms. Williams, we are certainly pleased that the Court ordered paternity test firmly establishes Flo Rida is the father of their son."
Guess he will be coughing up some major cash…real soon.
Photos: Getty/Josie's Twitter/Flo Rida's IG/Natasha's IG