Michael Strahan COVERS Men's Fitness September 2014 Issue + Did Nicole Murphy Try To Sabotage Michael Strahan's NFL Hall Of Fame Induction?!
Aug 04 | by _YBF
NFL star turned TV host Michael Strahan is gracing the newest cover of Men's Fitness magazine. Plus, there are rumors circulating that his now ex-fiancée Nicole Murphy may have tried to sabotage the biggest moment in his career. More inside…
Newly inducted NFL Hall of Famer Michael Strahan is currently on a career high right now. Despite the shortcomings in his love life, he recently celebrated becoming one of the newest inductees for the Pro Football Hall of Fame after his 15-year career in the NFL (he played for the New York Giants).
The 42-year-old former defensive lineman turned "Live with Kelly & Michael" television host is now gracing the cover of Men's Fitness magazine's September 2014 issue, showing off his signature gap and toned physique. And we're loving it.
In the cover story, the new "GMA" co-host talked about keeping in shape while juggling his many jobs, the evolution of football and how he's handling having to wear so many different hats in one day. Along with his daytime gigs, he's also a football analyst on Fox NFL Sunday. He has definitely been putting in work since he left the NFL.
You would think having to work so much, one couldn't possibly have time to workout. But not Michael. He revealed he actually feels in better shape now then he did when he was playing ball. He said,
"I feel better than I did when I was playing," Strahan says, flashing the goofy, gap-toothed grin that is as much his signature as the quarterback sack. "And not only when I was playing [pro], but when I was a young player, in my early 20s."
When asked about his weight he said,
"I'm leaner," he says. "The weight is distributed differently, but it's still there."
And it sure looks good too. Michael's issue hits stands August 4th.
And in his personal life...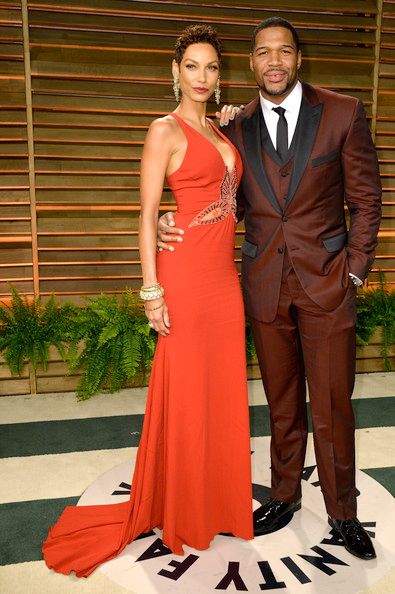 It may have seemed like a coincidence when news broke that Michael Strahan and his "Hollywood Exes" star fiancée Nicole Murphy called it quits the day before he was to be inducted into the NFL Hall of Fame.
But now, sources are telling TMZ that Nicole, or possibly someone in her camp, could have been trying to sabotage the biggest moment of his career. It's alleged Michael didn't have a clue that their break-up announcement would be released at the same time he would be accepting his momentous accolade.
We hear the two called off their 5-year engagement several weeks ago, but it was not known when they would reveal their un-coupling with the world. Unfortunately for Michael, during the presentation of him receiving his Hall of Fame gold jacket, reports were being published about their break-up.
Now...people in Michael's camp believe the timing was very calculated and Nicole, or someone close to her, was trying to ruin his big day.
Turns out, Michael didn't let any of that distract him from his big day. During his speech, he credited this past weekend as being "the best weekend of my life."
Thoughts?

BONUS:
Photos: Men's Fitness/Getty