Adrienne Bailon Blasts Ex Rob Kardashian For Cheating & His Family Name "Ruining Her Career", Khloe & Kim CLAP BACK
Jul 30 | by Natasha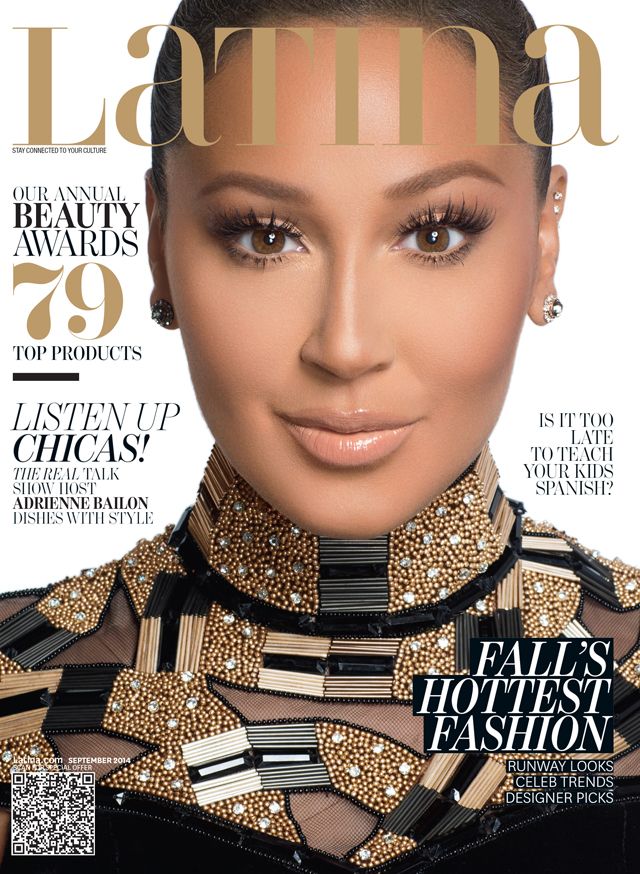 Well, Adrienne Bailon's definitely stirred up some publicity for herself with her chatfest inside her LATINA magazine cover story. Check out why Kim & Khloe Kardashian are now coming for her inside...
As she gears up to promote the new talk show "The Real" and a few other projects, Adrienne Bailon is covering the September 2014 issue of LATINA magazine. And while she's serving serious FACE on the cover, a certain family wasn't feeling what she had to say.
Years ago, Adrienne dated Rob Kardashian. The 3LW member turned Cheetah Girl was on several episodes of "Keeping Up With The Kardashians" with her then-man....and arguably garnered a few new fans from those appearances.
She and Rob broke up after he admittedly cheated on her. And now, Adrienne is speaking on what it was like having her relationship woes publicized, why she keeps her current long-term relationship with Def Jam exec Lenny Santiago under wraps, and why the "Kardashian name" supposedly ruined her career.
On the aftermath of Keeping Up With the Kardashians: "To be stuck with that Kardashian label, that was so hurtful to me and to my career. I probably realized that too late—not that it would've affected my decisions in terms of who I dated, but it would've affected my decision to appear on the show. At the time, I didn't think anyone would even care. To this day, people will still say, 'You ruined Rob's life!' and I'll think, Damn, I was still playing with Barbie dolls when I met him."
On why she won't bring her boyfriend on a reality show: "When I was doing the reality show [Empire Girls] with Julissa [Bermudez], the producers wanted me to show my relationship with Lenny, but I didn't want to do that; I didn't want a repeat of what happened with Rob."
On suffering Rob Kardashian's infidelity in the public eye: "It's common knowledge that he cheated on me, and it always bothered me that people were like, 'Pero, why couldn't you forgive him?' Why are women always the ones who have to forgive? If you cheated on a man, he would be like, 'You're disgusting, and I want nothing to do with you.' But women, we're supposed to be like, 'He messed up. He made a mistake.' And, in my situation, it wasn't like, 'Oh my God! I made a mistake!' He strategically planned things out so that he could cheat on me, and that to me was so disloyal."
On going public with her new love, Def Jam Records exec Lenny Santiago: "I wanted to let people know that we're not a secret—we're just private. Secret relationships are shady, and it's never been that. Five years into our relationship, we're no longer at the beginning—we're established now. We're in a great, strong place where any negativity cast our way won't affect us. It was a big birthday for him—he turned 40—and I felt like, 'I want people to know that I love you, and I think you're freakin' amazing.'"
Here's her BTS footage below:
But not everybody is feeling her new cover story. It's no secret that Rib has been going through some things lately--from getting bullied about his weight to him leaving Kim's wedding early and being caught in ALLEGED drug-filled situations. Rob's sister Kim K. took notice of Adrienne's story and offered up some SHADE.
Funny how she says being with a Kardashian hurt her career yet the only reason she has this article is bc she is talking about a Kardashian

— Kim Kardashian West (@KimKardashian) July 30, 2014
#LetItGoooooLetItGoooooo (FROZEN VOICE)

— Kim Kardashian West (@KimKardashian) July 30, 2014
So sad when people try to kick my brother when he is down #FamilyForever

— Kim Kardashian West (@KimKardashian) July 30, 2014
Robs' other big sis, Khloe, RT'd all of Kim's sentiments...and then added a couple of her own:
thought her and I were cool SMH "@Kardashian411: Adrienne has a lot of nerve to talk shit about Rob when he is obviously dealing with shit."

— Khloé (@khloekardashian) July 30, 2014
Don't think it was a secret. For sure. Don't kick my brother while he's down "@macklemroe: @khloekardashian was kimberly shading her?"

— Khloé (@khloekardashian) July 30, 2014
So, is Adrienne totally wrong for blasting Rob in an interview about what happened in their relationship...or is she well within her right to do so, since Rob admits to cheating on her and the interview IS about her life?