Benzino & His Girl Althea BLAST Mona Scott-Young For Allegedly Setting Up "LAHH ATL" Reunion Brawls + "Preachers Of L.A." Season 2 Trailer
Jul 19 | by _YBF
Benzino and his fiancée Althea Heart are blasting Mona Scott-Young for setting up the multiple fights that broke out during the taping of "LAHH ATL" reunion. Also, a new trailer for the upcoming season of "Preachers of L.A." was just released. More inside…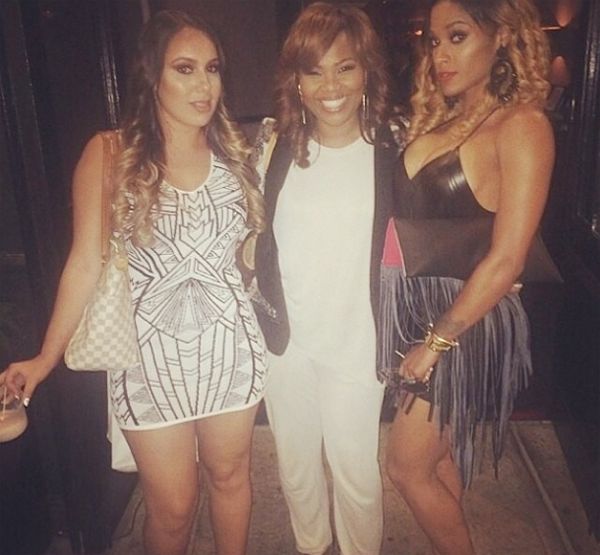 "LAHH ATL" reunion taping went down this week. And it ended with one big bang…actually multiple big bangs. Multiple fights broke out which resulted in the cops and paramedics having to come on the scene to tend to several people who were injured.
Cast mates Benzino and his fiancée Althea Heart believe Mona Scott-Young was behind all of the shenanigans that went down during the reunion show taping. Why? Well…a picture surfaced soon after the brawls, which led them to believe Mona was behind it all.
It was reported, Joseline was the aggressor in all of the fights that broke out. After taping for the reunion ended, Stevie J posted a picture of Joseline with a friend….and who is in the middle? Mona Scott-Young!
According to Benzino, Mona went out to dinner at Mr. Chows with Joseline right after the reunion. Stevie allegedly posted the picture (above) and was supposedly asked by Mona to take it down. But you know, what's it's out there, it's out there.
In the caption, Benzino said,
THIS WAS THE PIC THAT MONA SCOTT YOUNG WAS TAKEN RIGHT AFTER THE REUNION! THIS WAS IRRESPONSIBLE ON MONA'S BEHALF! STEVEIE POSTED IT THEN ONCE MONA CALLED AND TOLD HIM TO TAKE IT DOWN HE DID! AFTER JOSE RUINED THE REUNION, THE ENTIRE CAST SAT ALL AGREED 100 PERCEN THAT JOSELINE NEEDS TO BE STOPPED AND SHE STARTED EVERYTHING!! EVERYONE UP THERE DEFENDED ME AND ALTHEA AND SAID THEY DO NOT WANT TO SHOOT WITH JOSELINE, MONA NEVER CALLED ME, ALTHEA OR EVEN MIMI TO FIND OUT IF WE WERE OK! But she went TO MR CHOWS AND HAD DINNER WITH THE ANIMAL SMILING RIGHT AFTER THE REUNION! SMFH, SOMETHING AINT RIGHT AND THE TRUTH WILL COME OUT.. #lhhatl #thisaintover HOW CAN 40 SECURITY GUARDS ALLOW JOSE TO RUN WILD AND NOT CONTAIN HER! I HAD ABOUT 7 ON ME ALONE!! ALTHEA NEVER ONCE THREATEND ANYBODY, IT SEEMS LIKE THE WHOLE THING WAS A SET UP, BUT TRUST, THEY FUCKED UP
Althea caught the pic first and posted it to her Instagram with the caption, "That reunion was planned all good though. [heart]it too. You guys got the wrong one!! Lol."
The thirst...
And on another reality show...
"Preacher of L.A." is returning for a new season. And we have the new season's official trailer. The new season premieres August 20th at 10PM ET and from the looks of the trailer, it looks to be another drama-filled season.
The six mega-pastors Bishop Noel Jones, Minister Deitrick Haddon, Bishop Clarence McClendon, Pastor Jay Haizlip, Pastor Wayne Chaney and Bishop Ron Gibson are returning to the pulpit and the small screen with cameras following them as they maneuver through their family relationships and of course, their respective ministries.
Along with the new season, "Fix My Choir" star/former Destiny's Child member Michelle Williams will be hosting a two-part special featuring each cast member as they reflect back on the first season. The special will premiere on July 23rd at 10/9c. Check the trailer above.
EXTRAS:
1. Karrueche Tran confirms she and Chris Brown are back on and thought the skit Breezy appeared in with Drake at the ESPY's was hilarious. STORY
Photos: Benzino's IG/Althea's IG