OH: Big Sean CLAIMS He Wanted OUT Because Naya Is "Crazed & Jealous" (But He's Still Hanging With Her Brother)
Apr 10 | by Natasha
While Naya Rivera is busy gushing about how their seemingly perfect relationship (what they wanted us to believe) blossomed via an awkward new interview...Big Sean is blasting his now ex-fiancée for being an obsessive crazy jealous person!
Deets inside...
Rapper Big Sean seems to be taking a pre-emptive strike against Naya Rivera after their now public break up. Reportedly, it was couple's therapy that made him realize this relationship just wasn't for him. Wonder if they started couple's therapy before or after he wrote bars on a few songs about how amazingly perfect Naya is.
Something changed...because Big Sean is now supposedly saying couples therapy revealed that Naya's "way too controlling".
According to TMZ:
Our sources say Naya demanded to know where he was at all times and would threaten him by saying things like, "If you don't listen to what I say, I'll ruin your career."

We're told she was suspicious whenever Sean was with other women and would work herself up into jealous rages ... once breaking an expensive lamp during a rampage in his home.

We're also told Big Sean and Naya went to couples counseling -- which apparently worked because Sean realized how much he HATED being a couple ... and decided to get the hell out.
Oh? Well, when you (allegedly) cheat on your first chick to get with the next chick....that next chick MAY just be a bit paranoid. As she should be. But, why be in a paranoid based marriage? We guess Big Sean asked himself that question...and then got ghost!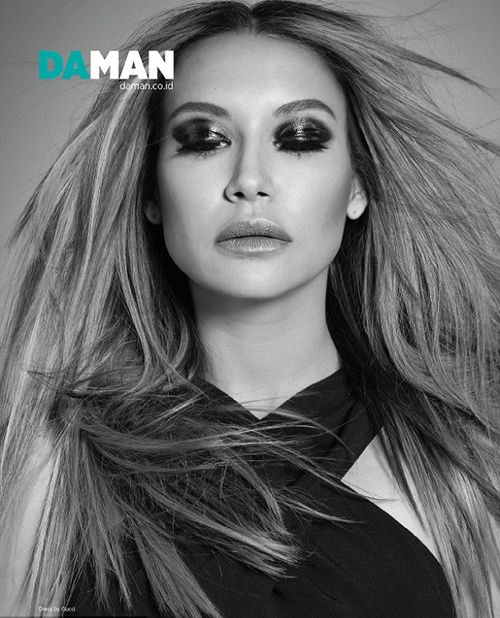 Awkwardly, a new interview of Naya's with DAMAN magazine just came out along with a full spread. It was obviously done before their breakup that was announced yesterday, but she's gushing abut how she and Sean got together thanks to Twitter:
'I actually started following him on Twitter and I mentioned that I was a big fan.

'Then some fans started to alert him that I was following him. His assistant happens to be a big fan of Glee, knows my character on the show and knows who I am. So Big Sean became curious and started to ask who I was.'

'A date was set, and it all just happened from there.'

'The way our relationship blossomed is like any other relationship. We went on a date and we enjoyed each other's company; we went on another and another, and it developed like any normal relationship.'
Interestingly, Sean hit up the L.A. Dodgers game the other night with Naya's brother, NFL baller Mychal Rivera (back left):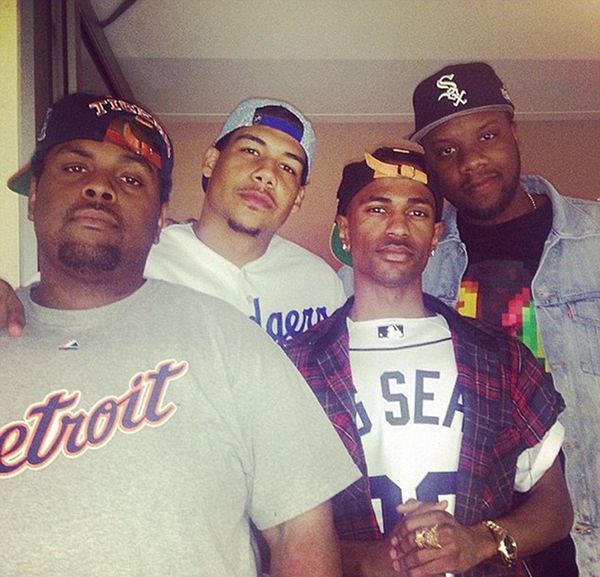 Isn't that the worst when family members stay cool with your ex? Sheesh.
Photos: DAMAN/Big Sean's IG, Getty